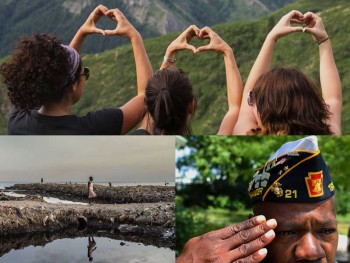 NEW YORK, Aug 17, 2014/ — For Fall 2014, Kenneth Cole wants you to LOOK GOOD, FOR GOOD!
Building upon the company's heritage of promoting "style with a purpose," as well as Kenneth Cole's personally vested interest in raising awareness for these causes, the new campaign will support specific charitable projects under three company pillars – Collective Health, Civil Liberties, and Artistic Activism.
For the Fall '14 launch, The Kenneth Cole Foundation will support projects through the St. Luke Foundation for Haiti, HELP USA, and the Sundance Institute. As an extension of the campaign, Kenneth Cole enlisted three photojournalists to chronicle the work of each charity partner.
The campaign is being brought to life digitally at kennethcole.com/ForGood that will feature exclusive photographer and video content from Haiti, Sundance and Help USA, as well as an interactive timeline meant to educate the consumer on the brands 30 year philanthropic history.
The advertising campaign will be supported by a robust national print, outdoor, digital, and social media plan.
The campaign was shot in New York City by fashion and portrait photographer Gregory Harris (whose previous work has appeared in prestigious magazines including Interview, WSJ Magazine, Dazed and Confused, Harper's Bazaar, Vogue Russia and Teen Vogue).
Featuring models Mirte Maas, Kai Newman, Baptiste Radufe, and Sung Jin Park, the imagery depicts modern, utilitarian looks with a focus on accessories, styled in an urban, industrial backdrop. In the spirit of social impact, the cast and crew each donated 5 % of their fee to support one of the charitable projects that the company is supporting.
In a strategic shift from raising awareness of social issues to encouraging action, the brand is teaming up with TakePart.com. The digital magazine and social action platform of Participant Media will produce original editorial pieces covering the impact of Kenneth Cole's charity partner projects as well as enable visitors to take actions benefiting each nonprofit through TakePart.com's proprietary Take Action Platform (TAP).
Directly integrated into each article, TAP actions include signing petitions, pledging, donating, sending messages of support, and measuring the influence of social sharing. To further incentivize participation, Kenneth Cole will provide rewards for each action taken: HEALTHCARE IN HAITI – St. Luke Foundation for Haiti; ENDING HOMELESSNESS – HELP USA, Youth Scholarship Fund; and DOCUMENTARies for change – Sundance Institute, Documentary Film Program
"For over 30 years, we have committed our resources to making a difference by addressing what people wear, while inspiring them to be aware and about what they stand in as well as what they stand for. This season, we are highlighting three charitable organizations by sending notable photographers and filmmakers into the field to document the inspiring accomplishments from three very different perspectives." says Kenneth Cole.