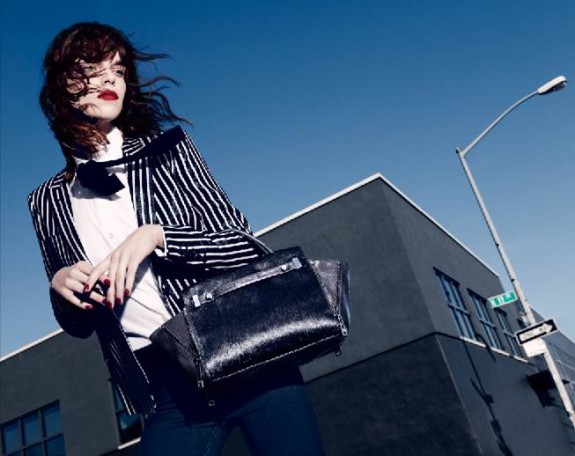 NEW YORK, Aug 13, 2014/ — The iconic New York contemporary handbag company, founded in 2003 by Monica Botkier, has officially relaunched under the name Botkier New York for Fall 2014 and is evolving into an accessories powerhouse.
A new website, a new blog, a new office and most of all, a new collection to die for (the Fall 2014 collection just reached store shelves), the re-launch has been perfectly timed for fashion week when all the fashion editors, journos and bloggers will be in New York City for fashion week.
But don't worry; you don't have to be in New York to see the newly launched Botkier New York. The redesigned and retrofitted website – www.botkier.com – gives Botkier fans of what to expect.
The new easier to navigate website features a clean, product-focused interface that intersects with social media. Product shots sit alongside beautiful photography from street style darlings as well as user generated content immediately uploaded when consumers tag #botkier on Instagram.
And the most prominent feature – the shoppable campaign video that opens the homepage
Meanwhile at the new lifestyle blog called "Botkier Street", the brand's first multi-channel advertising campaign is rolling out for Fall 2014.
Shot in Williamsburg to show the brand's street-smart roots, the campaign was lensed by photographer Paola Kudacki, who recently shot Beyoncé for the cover of TIME's '100 Most Influential People'
With model Meghan Collision as the star, the campaign rolls out beginning with September print issues (Vogue, Vanity Fair) and digital in early September
The Botkier New York handbags also have a major design updated. With the use of higher quality imported leathers like Brazilian deerskin, bubble lamb, goat skin, other exotics, new hardware designs and metals were incorporated in the bags.
Another development, the Holiday 2014- line splits into two tiers: Exclusives (slightly higher price point in limited quantity) and main Collection
Finally, the company moved from Soho mainstay to a new location on 37th Street in mid-town Manhattan