NEW YORK, September 12, 2014/ FW/ — Entitled 'A Look Behind Pamella Roland's Spring 2015 Collection', the talented designer, Pamella Roland debuted her Spring 2015 collection during Mercedes-Benz Fashion Week at Lincoln Center.
Roland's Spring 2015 collection consisted of an eveningwear-focus with a range of sleek cutout jumpsuits, elegant, clean-lined dresses including a shiny organza maxidress and a black silk gown with origami pleats, as well as a breathtaking fil coupe wedding gown that closed the show.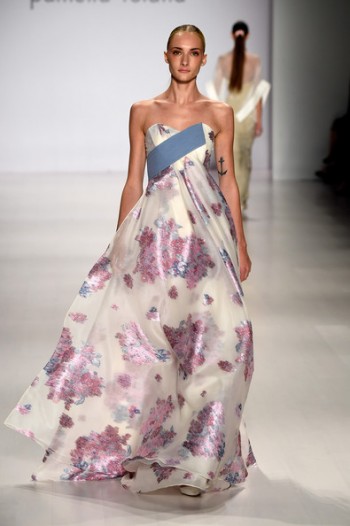 Fashion Windows editor Darby Radcliff catches up with the designer, Pamella Roland to discuss the design philosophy behind her Spring 2015 collection.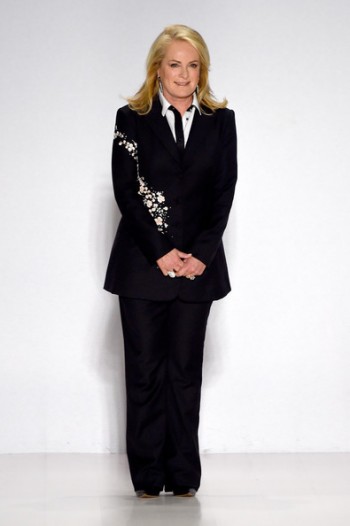 What was the inspiration behind your Spring 2015 collection?
I was inspired by the Zen gardens of Kyoto in Japan because when I lived in Japan for a while, I would love going to the Zen gardens, which honestly you do get zen in there and really start thinking when you look around.
There are so many beautiful things like the cherry blossoms, which you see in our fabrics, as well as the folded, structured looks and flowy gowns really reflect the trends of Japan.
What are your favorite hues and colors that you used in your Spring 2015 collection?
This season, we used soft colors including pinks that are for all the women out there that love pink. We also used all different hues of blue, as well as black and white.
What are your favorite pieces in your Spring 2015 collection?
I really loved all my pieces in my collection including the amazing gowns designed in beautiful fabrics, the structured pieces in the beginning of the runway show, and the wedding dress that closed the show.
What's next for your brand?
We just launched the Pamella line and we are launching bridal this October.
For more information on Pamella Roland, please visit:
@pamellaroland
[DARBY RADCLIFF] Photo Credit: Zimbio