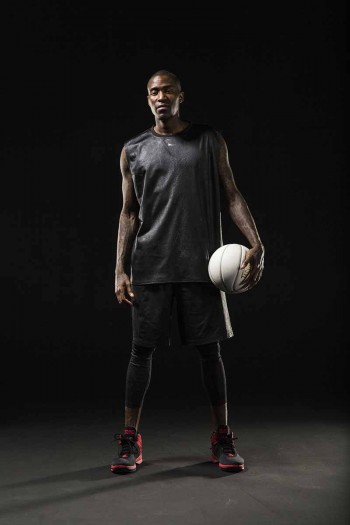 LOS ANGELES, Feb 27, 2015/ — Attention all sports enthusiasts! "FUTURELEGENDS", the newest men's apparel collection to hit the market is being launched on March 15, 2015 by Brandblack, the newest men's performance sportswear label.
Additionally, BRANDBLACK will be releasing the much anticipated "J.Crossover II", the follow-up to LA Clippers player Jamal Crawford's first signature shoe the "J.Crossover".
The J.Crossover II will consist of a full new collection of styles that utilize cutting edge performance technology.
The direction of BRANDBLACK is progressive by nature. Senior apparel designer Scott Nelson and creative director Billy Dill took inspiration from films and music (FUTURELEGENDS is from David Bowie's Diamond Dogs opening track), that hold a "near future" dystopian theme.
They experimented with proportion to give the clothing a futurist lean and challenged themselves to create their vision of a basketball kit from the future.
These concepts merged together culminated in the "FUTURELEGENDS" collection, consisting of contemporary silhouettes, moisture wicking t-shirts, classic heather grey sweatshirts that use a breathable spacer mesh, and stretch nylon windbreakers with a formal menswear suiting.
BRANDBLACK also infused sleek technical innovative facets such as heat sealed seams and TPU dipped lace tips juxtaposing them with their classic, sports pieces.
BRANDBLACK will be available 3/15/15 at select retailers including: American Rag, Bait, Blends, Bloomingdales, Conveyor Fred Segal, Feature Las Vegas, Finish Line, Hypebeast, Major DC, Packer Shoes, Rime, Xhibition, NK Sweden, Revolve Clothing, Rise 45, Solestruck, Unknwn, Storm, Wish, Without Walls and will also be available online at www.BRANDBLACK.com.