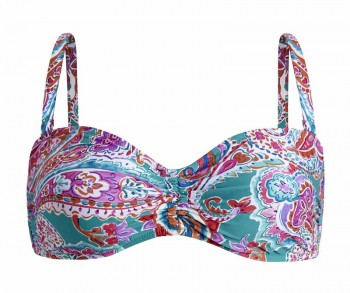 BARCELONA, Mar 23, 2015/ —Launched only last year, Violeta by MANGO is now expanding to swimwear with the plus-size label with bikinis and swimsuits as the star pieces for its Summer 2015 collection
Created to dress a young target market in sizes up to 52, the brand specializing in curvy silhouettes is making the collection available in both brick and click channels.
Over 15 styles have been perfectly translated into two distinct trends in the collection. Paisley prints are recurring motifs in the more exotic part of the collection.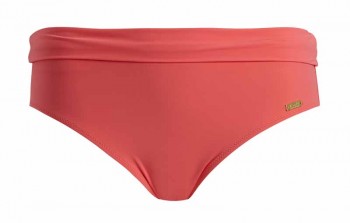 Turquoise, emerald green, pink and coral tones appear in the different styles (full-body swimwear suits and more daring bikinis) with metallic adornments, appliqués, and small studs.
Blue and white tones are the main attraction in the Mediterranean-influenced part of the collection. Renewing the nautical style, small tie prints and paisley come in bluish, ultramarine and navy tones.
To complete the variety of swimsuits, with prices ranging from 60 to 70 euros ($65-$75) Violeta by MANGO has also designed kaftans, printed tunics with sequins and even embroidered cover-ups in gauzy, cotton blends.
Similarly, accessories such as raffia clutch bags, spartan sandals with touches of gold, espadrilles, straw hats and linen bags in natural tones create endless possibilities for sophisticated mix-and-matching with this collection.
Photos courtesy of Violeta by Mango