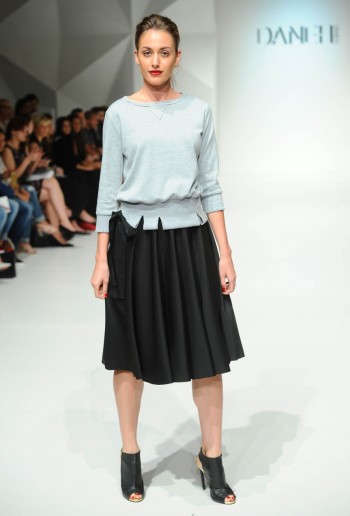 DUBAI, Apr 17, 2015/ — From Fashion Forward Dubai press notes:
Designer: DANEH BUAHMAD in association with The British Council
Collection Name: TRANSITION
Number of pieces: 23 LOOKS
Materials used: JERSEY, GABARDIN , POPLIN , TWEED
Inspiration:
My inspiration comes from everywhere but the motivation behind this particular collection emerged from exactly what I was experiencing at the time: a new home, renovations and chaos that consumed my life.
It was an aspiration for perfection that was driving me crazy until I took a step back and embraced this new phase in my life. We need to focus on the positive aspects in our lives and realize that sometimes there is perfection in imperfection!
Lines are clean and finishing is flawless, yet hems are unfinished and pants are twisted, while fabrics are mixed and colors are neutral all giving the collection that edgy charm making each item a staple in any wardrobe … but only for those who dare to be comfortably different.
Photos by Ian Gavan/Getty Images for Fashion Forward