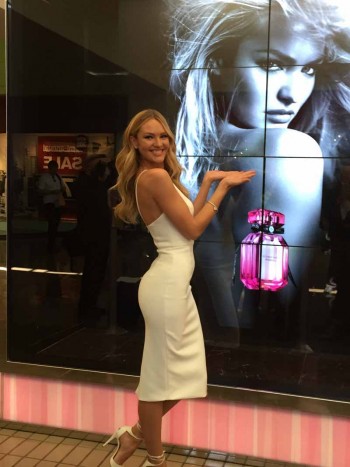 DALLAS, Apr 29, 2015/ — This morning in Dallas' Northpark Center, Victoria's Secret Angel Candice Swanepoel officially proclaimed it's #BombshellsDay!
Returning to the Big D after two years, Candice was greeted by an enthusiastic crowd who lined up to meet their favorite Victoria's Secret Angel. Ms. Swanepoel who looked devastatingly beautiful in a white halter dress signed autographs and took selfies with fans.
Catching up with Candice, FashionWindows had a one-on-one Q&A with the famous Angel.
FashionWindows: Welcome back to Dallas! This is the second time you've visited our city.
Candice Swanepoel: Yes, it's been a couple or three years, right?
FW: Victoria's Secret has Bombshell's Day before, but this year, it is different being the first ever International Bombshells Day. Please tell us more about it.
CS: Victoria's Secret is always honoring women and finding new ways for women to be themselves. With Bombshells Day now an international day, it encourages women all over the world to pamper themselves. Just be a girl – indulge yourself with perfume and lingerie, be out with your girlfriends.
FW: So basically, Bombshell's Day is an excuse to take a girl's day off!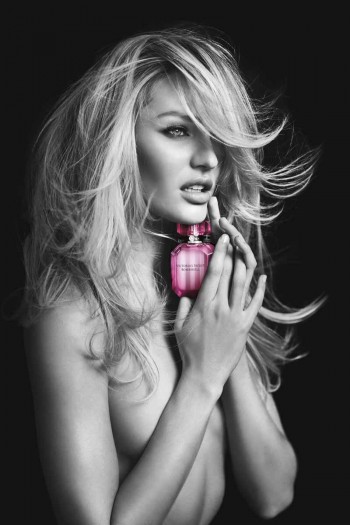 CS: Yes! Women are extraordinary, so why not take a holiday for us and celebrate femininity.
FW: Speaking of Bombshell, what do you think of Bombshells Day namesake perfume?
CS: Bombshell is one of the scents that I like wearing because it can go from day to night. It's a good go to perfume if you are unsure what to wear. It's also one of Victoria's Secret's all time bestseller since its launch in 2010.
FW: I'm not going to ask you about the Bombshell bra, but because you're a Victoria's Secret Angel, our readers would like to know what your favorite bra is?
CS: It's a tough question. I have so many favorites. I usually use the Angel Collection because it comfortable and has a little bit of a push up which for me is the perfect amount. I like some of the T-shirt bra. I think Bahati just did a recent campaign for it. And the T-shirt bra is amazing. I also like the bras without any lines.
FW: Base on what you are saying, you are suggesting that women should have a collection of bras and should have a bra for every occasion.
CS: Yes. Women should have lingerie for to be worn for the day and for night. It really depends on what you are wearing. A lot of women wear the wrong bra for the clothes they are wearing. Or sometimes, they are even wearing the wrong size bra. That's why Victoria's Secret has specialists to help customers pick the perfect bra for them.
Wearing the right bra is also a mood changer. This morning, people were asking me how to become a bombshell. It really depends in your personality. Pick up some lingerie. Pick up fragrance that makes you have that kind of transformation.
I don't wake up like this. It takes some transformation and it begins with what you are wearing underneath your clothes.