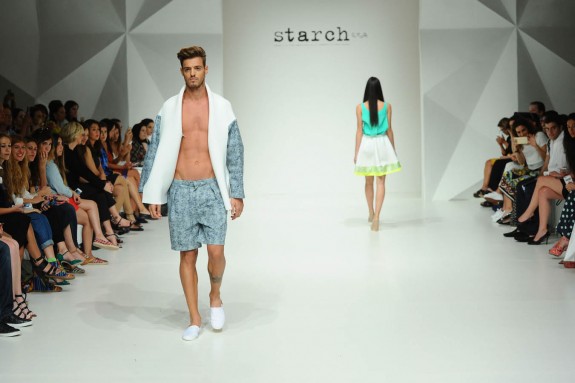 DUBAI, Apr 13, 2015/ — As part of the Starch Foundation show, designers Joe Arida, Nour Najem and Sako Dersahagian for Ardashes presented their Fall 2015 collections.
Designer: LA TERRE EST FOLLE (JOE ARIDA)
Collection Name: I – HUSTLER
Number of pieces: 22
Materials used: Popeline, Rib, Cote, Tulle, Jersey
Inspiration:
Inspired by gang culture and rap music, the collection references the juncture between sports and street-wear tempered by the purity of white and transparency. The line is built technically around the notion of the base layer: the versatile white t-shirt, its functionality and unpretentious sex appeal. The line focuses on layering, functional fabrics and team uniformity.
Designer: NOUR NAJEM
Collection Name: Nafas – Breathings of the Soul
Number of pieces: 22
Materials used: Mens' shirts fabrics: cotton poplin, cotton veil, oxford, twill, Raw linen ribbon
Inspiration: Life is a Breath.
Breathe in, breathe out.
It starts with inspiration and ends with expiration:
Take things in, and let things out.
Out with the old, the damaged, the unwanted, and In with the hopes and promises of the new.
Trust the rhythm, there's nothing more to it.
Designer: Sako Dersahagian for Ardashes
Collection Name: Hypochondria
Number of pieces: Approximately 20
Materials used: Neon sequins/ neoprene/denim/ pinstripe cotton/ silk
Inspiration: When fitness becomes illness. A mix of medicine and a method of self healing. Using fitness to overcome disease.