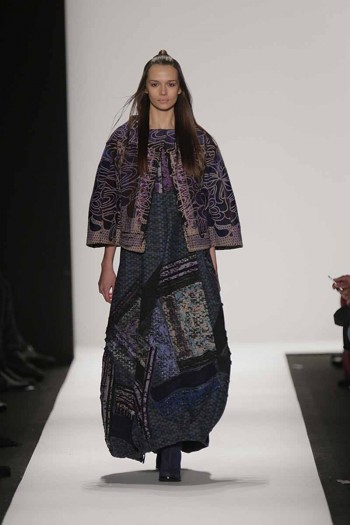 Xue Yang, M.F.A Fashion Design, was born and raised in Jilin, China. Before coming to Academy of Art University, Yang attended film school and later became assistant costume designer for the film Buddha Mountain, which won Best Picture at the Tokyo International Film Festival in 2010.
Inspired by vintage Chinese fabric, Yang's collection focused on a unique sleeve design. The cocoon shape of the garments represents restrictive practices, such as foot binding as practiced in prior centuries on Chinese women.
Yang collaborated with Oom Terdpravat, M.F.A. Fashion Design and Textile Design, who is from Bangkok, Thailand. She received a B.A. in Visual Arts while studying in Canada and was named a "Super Intern" during her 2014 internship at BCBG.
During her time with BCBG, Terdpravat developed embroidery for a runway collection and textile burnout for a main line. She designed the textiles for this joint fall 2015 collection in a watercolor palette of deep purples, blues and greens. Her print inspiration derives from the floral, geometric embroidery of a Northwest Chinese hill tribe.
Photos courtesy of Academy of Art University