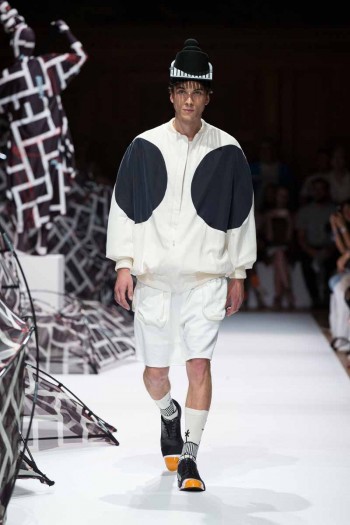 For Spring Summer 16, Henrik Vibskov presents The Hot Spray Escape, a prickly and outlandish exploration of survival.
Taking inspiration from the harsh weather conditions of the dessert and the bizarre evolution of its fauna, ideas of extremes and survival playfully mix together with plastic surgery and bodybuilding. These transformative concepts melt into a steamy and surreal vision of the basic human instinct to stay alive, and of our search for spiritual tranquility and physical perfection.
As usual, a mesmerizing show installation humorously reflects the driving concepts of the collection; amongst a labyrinthine network of mesh tents walks a group of performers, flexing and rhythmically pulling on resistance bands.
Labeled with construction information and printed with bricks inspired by Tunisian nomadic mud-houses, the tents pulse with a quiet undercurrent of efficiency and urgency, forming the makeshift gathering of an expedition base-camp.
Curved lines are built into the cuts of key styles, building shape in trousers and defining a new silhouette. Bold contrasting circles are inserted into oversized bomber jackets and appear as curved color lines on knitwear.
Pointed shoulders appear combined with high-waisted trousers and shorts are classically Vibskov in long and wide styles. Hats have been made into protective wooden-peaked caps with trail-marking rock piles stacked on top, and colorful hand-dipped shoes echo the geological layering of soil.
The color palate for SS16 feels fresh with different shades of white contrasting with black and white prints. Digital prints on cotton and jersey styles show vast dessert landscapes and dry geological canyons, while embroideries on khadi-cotton looks nod to dreamy post-card ready imagery. Shirts and long kaftans are layered with kimono jackets and appear in a clashing mix of black and white block prints.
Photos by Victor Jones, courtesy of Henrik Vibskov