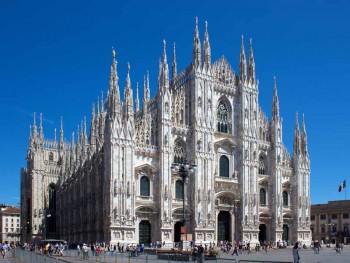 Slated for June 19-23, 2015, Milan Men's Fashion Week will feature 41 runway shows and new initiatives guaranteed to titillate a fashionista's imagination.
For the Spring/Summer 2016 season, expect:
– 41 runway shows. Alongside the established fashion labels, Damir Doma and Marcelo Burlon County of Milan will be appearing for the first time. And Marni will be making a comeback to the Men's Fashion Week.
– FROM FLORENCE TO MILAN – A FASHION JOURNEY: The "Italian Men's Fashion Week" kicks off in Florence on June 16 with Pitti Uomo and then moves to Milan, where fashion shows and select presentations take place.
For the first time a special train for journalists and buyers will connect Florence to Milan in the early afternoon of Friday June 19. This initiative, organized in collaboration with Camera della Moda, has been promoted by Centro di Firenze per la Moda Italiana with the support of Mise and Agenzia Ice.
– EXCLUSIVE EXPO EXPERIENCE: At the close of the Fashion Week, on the afternoon of Tuesday June 23, Camera Nazionale della Moda Italiana will offer top international journalists and buyers an exclusive guided tour of Expo 2015. This will be a unique chance to visit the Expo with a series of facilities enabling guests to experience the best of the Universal Exhibition.
– EXCLUSIVE VISITS TO MUSEUMS AND SPECIAL PROJECTS: 2015 is the year of Milan and for the opening of the Expo several Milanese fashion houses have gifted the city with some new and exciting projects, including exhibitions and museums. Camera della Moda will be giving a select international audience the chance to visit them on exclusively organized tours.
Runway Show Schedule
FRIDAY June 19
2000 DIRK BIKKEMBERGS Piazzale Medaglie D'Oro, 2
SATURDAY, June 20
0930 CORNELIANI Corso Magenta, 24
1030 ERMENEGILDO ZEGNA Piazza VI Febbraio
1130 EMPORIO ARMANI Via Bergognone, 59
1230 COSTUME NATIONAL HOMME Via Tortona 58
1500 ANDREA POMPILIO Location to be announced
1600 JIL SANDER Via Beltrami 5
1700 LES HOMMES Corso Venezia 16
1800 MARNI Viale Umbria 42
1900 NEIL BARRETT Location to be announced
2000 VERSACE Via Gesu 12
2100 PHILIPP PLEIN Viale Isonzo 11
For the schedule for June 21-23, 2015, see below:
SUNDAY, June 21
0930 BOTTEGA VENETA Via Priv. Ercole Marelli 6
1030 N°21 Via Conservatorio 12
1130 JOHN RICHMOND Corso Venezia 16
1230 SALVATORE FERRAGAMO Piazza Affari 6
1400 CALVIN KLEIN COLLECTION Viale Umbria 37
1500 VIVIENNE WESTWOOD Via San Luca 3
1600 MISSONI Location to be announced
1700 DAKS Via Amatore Sciesa 3
1800 PRADA Via Fogazzaro 36
1900 MONCLER GAMME BLEU Via Tortona 58
2000 PRINGLE OF SCOTLAND Corso Como 10
MONDAY June 22
0930 DIESEL BLACK GOLD Via Palermo 10
1030 ASSEGNATO Via Bergogne 59
1130 ANTONIO MARRAS Location to be announced
1230 GUCCI Via Valtellina 7
1400 ETRO Via Piranesi 14
1500 MSGM Via Piranesi
1600 CANALI Via Savona 56
1700 DAMIR DOMA Via Tortona 58
1800 FENDI Via Solari 35
1900 MARCELO BURLON COUNTY OF MILAN Via Orobia 15
2000 BRIONI Piazza Castello 1
TUESDAY June 23
0930 DSQUARED2 Via San Luca 3
1030 GIORGIO ARMANI Via Bergognone 59
1130 ERMANNO SCERVINO Corso Venezia 16
1230 CHRISTIAN PELLIZZARI Corso Venezia 16
1330 STELLA JEAN Corso Venezia 16
1430 ZENG FENGFEI Location to be announced
1530 JIWENBO Location to be announced