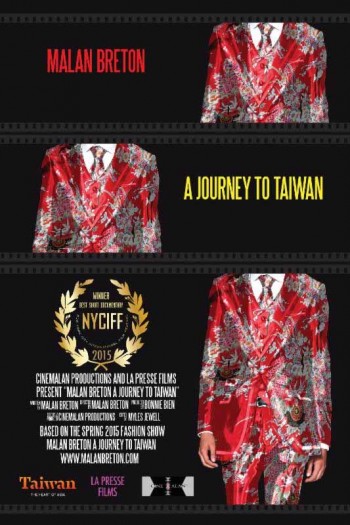 "A Journey to Taiwan", won Best Short Documentary Film in May at NYCIFF. It will be screened at 5 PM and again at 7 PM, on Tuesday, July 14, 2015 at: TECO 1 East 42 Street New York City in tandem with the Malan Breton Men Spring/Summer 2016 show.
The film documents Malan Breton, his homeland, and the majestic landscapes that continue to be the inspiration for his fashion, in particular his Spring Summer 2015 collection entitled: A Journey to Taiwan presented in September 2014 at the prestigious Mercedes Benz Fashion tents at Lincoln Center.
Here, in this documentary, Breton lifts the veil on his recent and most uniquely inspirational trip to Taiwan, as he talks one to one about his knowledge of; his deeply intense love affair with the country of his birth.
"The film is a really impressive draw for Taiwan tourism making the colors, sights, people, and every detail pop." Laurel Marcus, DFR:Daily Fashion Report
The film hit a cord with the fashion press and the film industry alike. It has been submitted for the Oscars and many festivals are clamoring for submissions. The timing of the film could not be better; the film's landscapes coincide with the new movie by, auteur, Martin Scorsese who was filming his new film "Silence" in Taiwan on the recommendation of Ang Lee (Taiwanese film maker), at the same time that "Journey to Taiwan", was filming.
It also coincides with the wave of fashion designer documentary's that seem to be in vogue now, such as: the new Dior Documentary: "Dior and I".