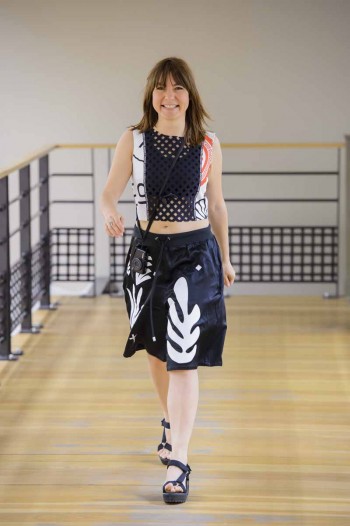 Offspring of the Karaté Kid Generation ; the Andrea Crews man is fascinated by martial arts. He wears proudly the logos of the clubs where he trains, day and night, to master his discipline.
IMMORTAL is the guide who uses his opponent's strength to turn it against him. The ranks doesn't matter here, the colors of the belts overlap to abolish hierarchy.
Learning is like a path, the spectator's one is circled with glass rooms, in which the SS16 collection is displayed. Andrea Crews draws away from the fashion presentation classical codes and exhibits four living paintings, off the beaten track:
A group of Blazians, black-asians, transgender and transcultural icons, is rehearsing a minimal and precise walk, like a mantra.
Boys and girls with singular beauties, discovered on social networks, embody the fashion week new-guarde and practice for the runway. They swap clothes to create looks ; they blend jacquards, lazer cut and neoprene, Manga, Kabuki and the dojo fantasy ; with no boundaries.
Some of them lie flat on the ground and the spectator while rising, discovers the graphic and multicolored silhouettes which he couldn't see by other means.
The Taikos give the pace to those mini-shows. Escorted by translucent creatures, the chant of the geisha calls for agility and contemplation.
Photos courtesy of Andrea Crews