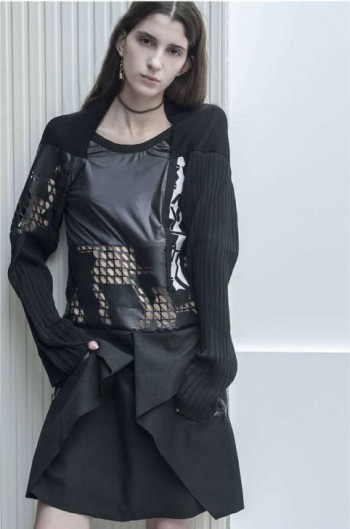 Inspired by antique Chinese porcelain, Masha Ma's pre-spirng 2016 collection brings an iconic oriental aesthetic into a new era of modern femininity.
The cracking and wear of the porcelain pieces is mirrored by the graphic elements within the pieces.
Fabrics and the treatments employed are a key focus of the custom-made lace, brushed suede, laser-cut PU, double-face satin and handwoven Swarovski crystals offer new points of view on teh delicacy, wear and detail of fine porcelain.
The colour palette also plays with ideas of the traditional… white and blue are combined with grey and black to modernize the expression of Chinese elements.
With this collection, Masha Ma continues to defy and redefine expectations of Chinese creativity.
Photos courtesy of Masha Ma