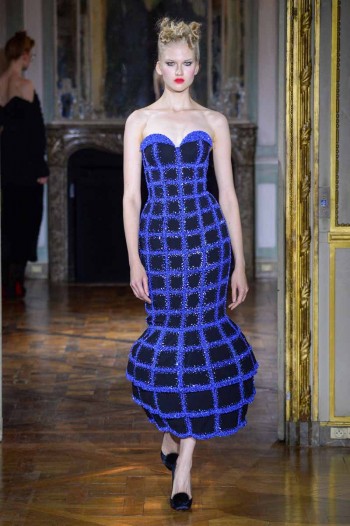 An inventive storyteller, emerging designer Ulyana Sergeenko went for the unexpected and dressed her jetsetting heroine upon her return home – an updated version of a Soviet Communal Apartment that kept Leningrad era look after the 1917 revolution.
The Ulyana Sergeenko woman lives in an eclectic space, finding a new modesty in shapes, colors, decorations. Evoking memories from the past, the collection fluidly explores angles and places of the Communal Apartment, turning atmospheres into suggestions.
Sergeenko's signature womanly silhouette becomes vertical and light, waist still nipped. The Salute lamp is interpreted in the form of a sculpted dress, or it is recreated in a painstaking mélange of Yelets lace.
The shape of a ball recurs: as a surreal punctuation in the form of fur pompons on coats and dresses, in large geranium textile flowers.
Decadent nightgowns with a Visconti flair suggest a stroll in the winter garden, while precious porcelains taken from a well-kept Chiffonier are the base of a Vologda lace dress.
A Communal Apartment did not exclude a touch of drama and glamour, which in the collection is a Boudoir feast of lace, silk, high bodices, wrap dresses, loose-fitting lines and soft corsets. Pleating, intarsia, crystal, sequins add preciousness.
Mixing nostalgia with a flair for beauty, Sergeenko finds a new tone in her expression: soft and intimate, light yet intensely personal.
Photos courtesy of Ulyana Sergeenko