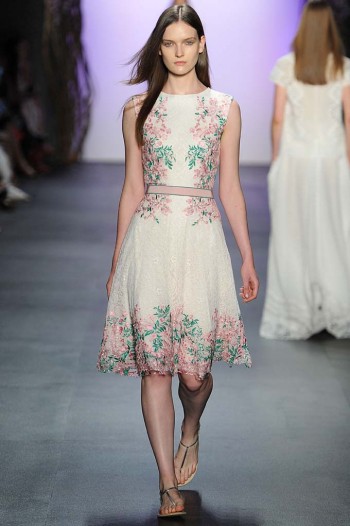 With the works of Japanese painters Ogata Korin and Hokusai as his inspiration, Tadashi Shoji sent out a very feminine, modern and romantic collection that references the serenity of a Japanese garden.
White coat dresses in lace that have been constructed based on the kimono and floor length tube gowns embroidered with flowers give a wink to tradition while also giving a nod to contemporary styles.
Wisteria vines languorously drape over an arched trellis have been recreated either as an appliqué or embroidery and thus raising the ante for elegance several notches.
Tadashi Shoji celebrates springtime at the same time that he celebrates the joy that women feels for the season that brings flowers and warmth.
[MARI DAVIS]
Photos courtesy of Tadashi Shoji