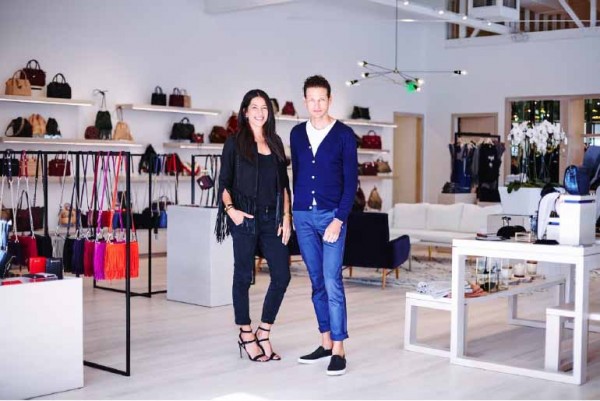 Rebecca Minkoff is challenging the status quo with the announcement that during New York Fashion Week in February, her brand will be showing the current collection instead of the Fall 2016 collection.
The idea of this model is to lead the charge for how the industry as a whole should present and show at Fashion Week. Instead of showing the brand's upcoming Fall 2016 collection in February, the brand will show an in season show with products that are currently available or will be available in the next 30-45 days with support from retailers, media and influencers who will attend and promote the show as they promote full price, in season selling, coupled with letting their top consumers come and have a unique experience.
"As a brand that has become known for its firsts- one of the first brands to engage our customer on social media, the first brand on Snapchat, one of the first brands to wearable tech and the first brand to incorporate technology into our stores in an impactful way with our Store of the Future concept- we feel this is the next logical step for the brand and for our consumer," says Uri Minkoff, CEO and Co-Founder.
"Rebecca Minkoff is, and forever will be, pro-consumer. Fashion week should be our collective victory lap- a celebration of full price retail that has an emotional connection with our customer that she can access with immediacy. Today, there are inefficiencies in the show model, the calendar and process, and the result is consumer fatigue at retail," Uri added.
The brand plans to offer their media and retail partners the opportunity to invite their most loyal subscribers and customers for an off-page, fully immersive fashion show experience that will empower them to engage with customers directly, around an experience and product that is available at full price in the Now. This will drive full price, in season awareness for product that is time and season right, and at full price. The goal is to promote with our partners what is available, rather than creating a tease of what isn't.
"We have seen that the current fashion show system isn't working. Through social media and the internet, our customer is seeing the product at the same time as editors and influencers; by the time that the product has hit retail shelves 6 months later, they are over the item that they were coveting when it originally walked down the runway. What this model aims to do is get the consumer excited about retail again, while letting our media, retail and influencer partners become heroes to their consumers and followers by breaking down the barriers and allowing them to be a part of the conversation," says Rebecca Minkoff, Creative Director and Co-Founder.
The brand will still continue to show editors, buyers and fashion directors the following season's collection in private, one on one appointments.
So, for this February, while the brand will be showing Spring/Summer 2016 to consumers and industry alike, it will be giving private industry appointments to buyers and editors, who can then properly select and plan out their choices, which will then be revealed to the consumers in a Fall/Holiday 2016 show in September.
This allows the trade to have proper product and designer interaction in a private setting to afford them the most respect and relationship. This will also allow us to partner with the trade so that what comes down the runway in season, has actually been produced and will be available for purchase.
"Our goal is to revolutionize the way shows are done," Uri Minkoff says of the new plan, "I hope other designers will join us in this conversation."