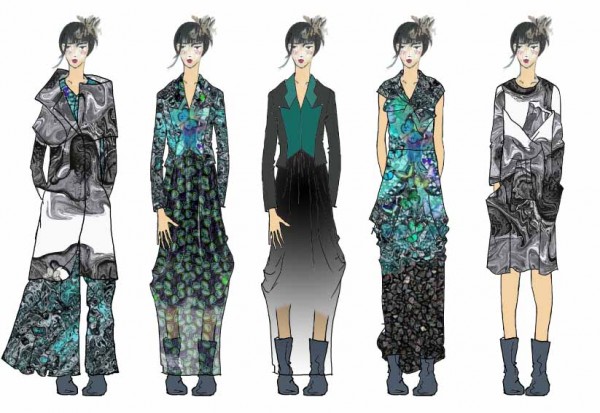 Returning to the New York catwalk, the Hong Kong Trade Development Council once again brings the best designers that Hong Kong has to offer.
Designer: Loom Loop
The Loom Loop F/W 2016 collection is inspired by a Chinese legend of a tragic love story, Butterfly Lovers and its theme is androgynous. It begins with 2 characters – Liang Shanbo and Zhu Yingtai. Zhu disguised herself as a boy and left for an academy. As time goes by, they became inseparable companions and Zhu realized that she was in love.
True to Loom Loop's philosophy, the key look is relaxed yet expressive. To balance the melancholic feminine palette in dark forest green and burgundy colours, masculinity is expressed through the tubular-shaped dresses added with a dash of humour in the farfalle print. The use of the most luxurious silk in the tailoring adds fluidity to the clean lines and structured silhouette, paying homage to Zhu's identity from the story.
In addition to the statement prints, crafted pieces in Canton silk that are minimalist with subtle detailing and block coloring characterizes the collection, which allows the artisanal fabric to speak for itself.
"Androgynous by Butterfly Lovers," is how Polly Ho, designer for Loom Loop describes the collection.
Hong Kong Trade Development Council
Date: Friday, February 12, 2016
Time: 4:00 p.m.
Location: Skylight at Moynihan Station | The Dock