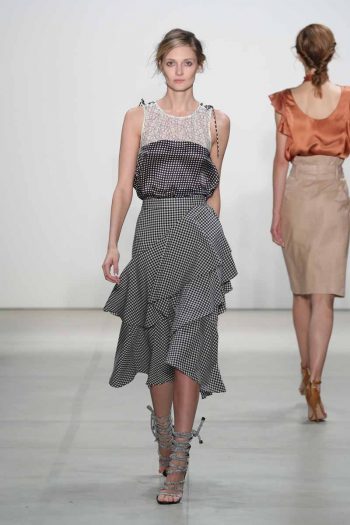 Let us be the first to admit that we're caught in Marissa's Webb. Here's why. All week long we have been watching designers come out with collections that were beautiful and aesthetically pleasing to our eye – but were they practical for our everyday wardrobe right now? Not necessarily.
But that all changed once Marissa Webb's show happened. That's another reason why her collections stand out so much in our books. Instead of following trends – Marissa creates them for her following. She sticks to what she knows and what her customers love and elevates them.
This Spring/Summer 2017 collection was full of feminine silhouettes with ruffles being the most dominant. Marissa was ruffling our feathers – in a good way. Several looks were juxtaposed and balanced out with edgier pieces such as gingham and leather skirts and her infamous military pants and jackets.
Oh and let's circle back to how big "buy now, straight from the runway" was so popular with designers this season. Who doesn't want that instant gratification after seeing these looks on the runway? Especially from this collection – get ready to stock up on those wardrobe staples ladies!