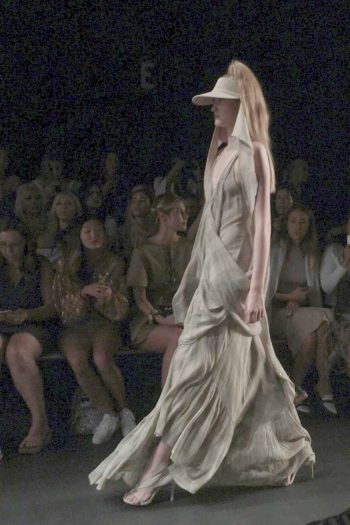 Inspired by the movie "Theeb," which is set in the Wadi Rum or The Valley of the Moon in southern Jordan, the brother and sister design duo of Nicholas K took many elements from traditional Bedouin dressing, deconstructed it then reconstructed to create a very finished look that is modern and pertinent to the 21st century woman.
As a brand, Nicholas K which has been classified as a cult label early on has been making big inroads with the mainstream fashionista. And with this very strong and tight collection, Nicholas K will garner more fans with the added benefit of being able to keep the label's DNA while attracting a wider audience.
Loose fitting tops, slim leggings interspersed with wide legged pants, flowing floor length wrap dresses, cold shoulder tops and coat dresses dominate the collection.
Artisan woven fabrics, organic cotton, vegetable dyed leathers and alpaca construct were the materials of choice which surprisingly makes the collection also very environmentally friendly.