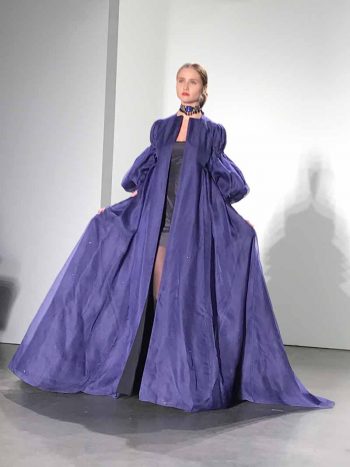 Titled "Brilliant Royal Blue," the Zang Toi Fall 2017 collection is fit for royalty. Choosing to focus on the cut and tailoring this season, Toi used very little embellishments. Instead, he highlighted his mastery of his craft by sending an impeccably tailored collection that featured flounces in one breath, then figure hugging gowns worthy of the red carpet next.
In the world of high fashion, luxury can be shown in so many ways. Zang Toi had ran the gamut – from encrusted pearls & precious stones to hand embroidery, even body jewelry. His audience are used to being amazed.
Yet, once in a while, the Malaysian designer throws us a curve ball and goes for bare luxury, a look that is hard to achieve but Toi does effortlessly.
In its simplicity lies it beauty. The immaculate tailoring says it all. Still, this is just half of the equation. The other half is the woman wearing it! Because all of Zang Toi's creations are made-to-measure, expect a perfect fit and the joy of wearing it.
For Zang Toi fans, beauty is not skin deep. It goes from head to toe, and experienced in every curve, every seam, all the way down to the hemline.