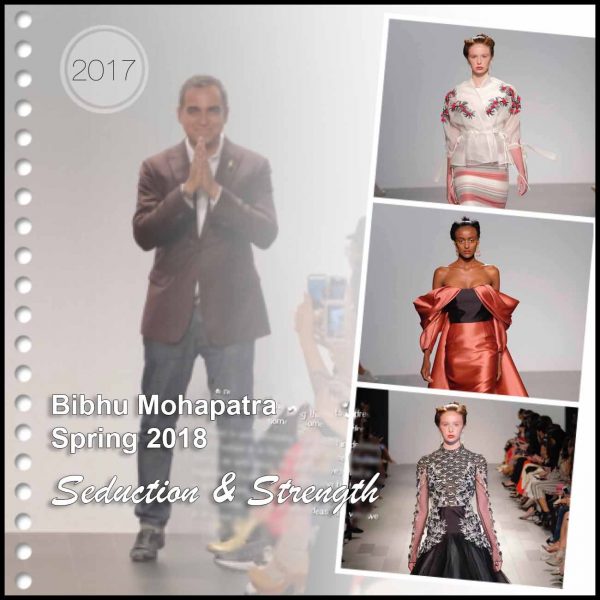 The BIBHU MOHAPATRA Spring Summer 2018 collection draws inspiration from art and life in traditional Eastern Asia. Reflecting on the mysterious female samurai, the collection strikes a balance between seduction and strength – a power dynamic interpreted in geometric silhouettes and artful, embellished fabrics.
"The role of the female samurai has, historically, been a battle of its own. She is always the exception and never the rule. Each piece has been designed to echo her extraordinary uniqueness through masterpieces of Japanese lace, sunburst pleated tulle, and silk mikado. There is war in art and there is art in war – this collection captures the vibrancy of it all," explains Mohapatra.
Rooted in conflict, the SS18 collection's resolution is a synergistic mix of couture ready-to-wear and evening gowns. Highlights include necklines and drapework reminiscent of formal kimonos, geometrically inclined beadwork, and knotting inspired by Japanese Shibari – the artistic practice of bondage.
Mohapatra also collaborated with Christian Louboutin to customize two styles of shoes from the French luxury brand's SS18 collection. Nosy, a pointy-toe pump, and Nosy Flat, a pointy-toe flat style combine two contrasting colors of leather with transparent PVC and floral lace accents. These sleek, ultra-feminine styles both reveal and conceal the foot, echoing the duality inherent to Mohapatra's collection.
For embellishments, Mohapatra collaborated with PreciosaGroup on fine crystals. "Preciosa is the perfect collaborator for us as we built this collection. Their product stands for incredible quality, refinement and modernity which enables me to take my collection from concept to realization."
Explicitly designed from head to toe, the BIBHU MOHAPATRA SS18 collection introduces the image of a self-actualized warrior.
Photos by Kevin Sturman, courtesy of Bibhu Mohapatra