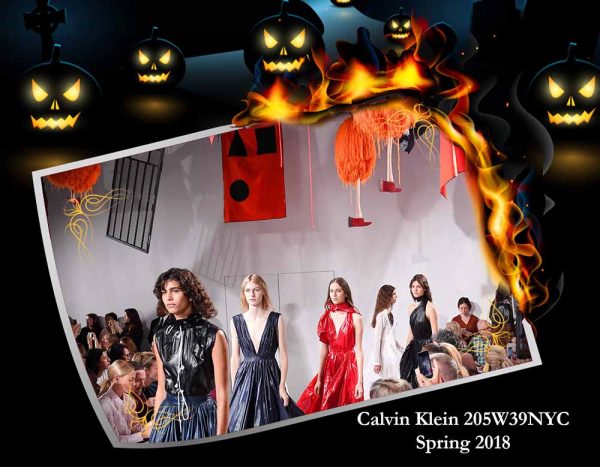 Raf Simons is a fashion alchemist! Creating beautify from horror, the Chief Creative Office of Calvin Klein took inspiration from the cinema – Hollywood's depiction of an American nightmare and its flipside, the American dream. With heroes and anti-heroes endlessly remixed and retextured, then given new interpretation.
And Simons never do things halfway. He commissioned artist Sterling Ruby for a site specific installation for the Spring runway show. Ruby drew inspiration from the same source material yet he created his artwork separately, thus making a statement that is entirely different from Simons but complimentary to it. Together, the fashion and art installation make a very powerful statement.
The "clues" of horror, but also of dreams, inspire the collection. Here, there is never any horror without beauty. Cinema's distinct visual vocabulary of symbols and signs, is cut-up, recontextualized and reassembled, to create a plurality of dress. Multiple signifiers of the tropes of thrillers are combined in single outfits, creating new assemblages. They are 'edited' – like a movie – to define a fresh narrative.
"It's about American horror and American beauty," says Raf Simons. "Fashion tries to hide the horror and embrace only beauty. But they are both a part of life. This collection is a celebration of that: a celebration of American life."
Mid-century American couture silhouettes are rendered industrial, reiterated in nylon, rubber specially-molded in Ohio and hand-painted leather. Lumberjack checks are used for tailored men's suits. Pom-poms are reappropriated for fringed dresses, handbags or keyrings, and nightgowns become evening-gowns. Material surfaces are disturbed, distressed, rubber-stamped, faded and splattered. The collection's dominant colors are safety orange, yellow, black, overwhelmingly red.
Fishnet, silk slips, rubber against skin. These reference a corporeality that speaks of both sexuality and mortality. The lineage of these movies can be traced back to urban myths, to puritan cautionary tales warning adolescents of the perils of moral transgression and the dangers of youthful sexuality – and the history of CALVIN KLEIN is tied up with transgressive sexuality.
The quintessence of CALVIN KLEIN's identity can be discovered, again and again. Like these movies, CALVIN KLEIN is also an American institution, a symbol in and of itself. It reflects one facet of that always-inspiring American Dream. A pair of the brand's iconic perfume bottles – ETERNITY and OBSESSED – become totemic charms, hanging from belts and handbags like tools, weapons or trophies.
In exploring America, Raf Simons found Andy Warhol – an artist whose work has helped define both the contemporary identity of American culture, and also the world's perceptions of it. In a unique collaboration with The Andy Warhol Foundation for the Visual Arts, this collection incorporates a selection of Warhol artworks as placement screen-prints.
The pieces feature portraits of Warhol intimate and art collector Sandra Brant (1971) and the movie star Dennis Hopper (1971). The latter wrote, directed and starred in the film Easy Rider (1969), which has come to define contemporary notions of American machismo.
The curation also includes Knives (1981-2), Electric Chair (1964-65) and Ambulance Disaster (1963-64) from Warhol's Death and Disaster Series. This body of work depicts real-life horror and trauma, but transforms them into images that resemble film stills – here, they are laid alongside Brant and Hopper, the muses of the collection. Horror is juxtaposed, always, with dreams. It always becomes beautiful. Good always triumphs.
IMAGE CREDIT – KEY RUNWAY LOOKS: © 2017 Giovanni Giannoni, courtesy of Calvin Klein