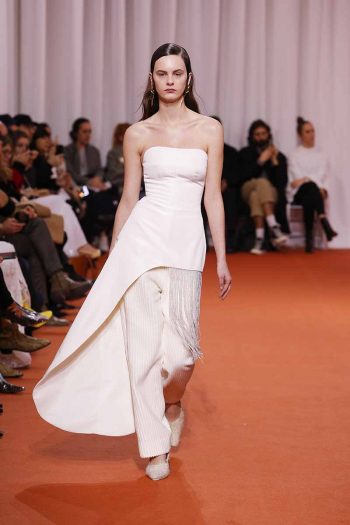 PARIS HAUTE COUTURE WEEK / — Inspired by a curator and her personal collection, ELLERY takes their first steps into the world of Couture, approaching the traditional art form with the cerebral woman in mind.
"I want to make clothing for a woman who dresses for herself – not for anyone else. This a celebration of a new ELLERY woman and as a woman myself I want nothing more than to create clothing from a female point of view." – Kym Ellery
The collection embraces the brand's signature and amplifies it; volumes of volume, illustrious and inventive fabrications, and the ever-present connection between the masculine and feminine.
Artisanal craftsmanship, embroidery and embellishment are applied unexpectedly with ironic aplomb. Graphic oyster embroidery personifies abundance, whilst capes are subtly quilted with linear portraits.
Delicate webbed lace with dense graphic beading is draped across sharp tailoring, softening the silhouette.
Man-style tailoring boasts strong shoulders and sculptural forward-facing sleeves whilst open cuffed cigarette pants frame the foot. Sculptural draping twists and turns as it follows the female form.
Drop-waisted gowns gently swing, challenging the traditional expectations of eveningwear and 'La piece de resistance' – a twisted faux cul skirt constructed with forty meters of French silk twill and 120 artisanal hours.
The jewellery pieces capture the essence of the collector's collection; vases plucked from her mantel piece, female-forms, sculpted in abstract dispositions whilst gold, silver and amber combine in artistic harmony.
The shoes collection continues to evolve, square toed boots and sling back court shoes feature heels made from marble and tortoiseshell resin. Leathers are creamy in autumnal shades and highlights of fluffy tweed feature throughout.
'To collect and be cherished' is an ongoing sentiment that runs through the brand. This new chapter strikes a balance between both the brands history and it's future – one that will continue toendeavor to empower women of excellence.
Photos courtesy of Ellery