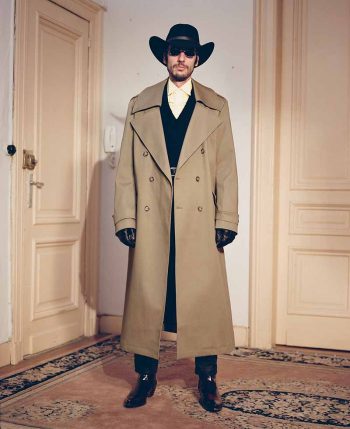 PARIS MEN'S WEEK / — Ernest W. Baker, the founder's Grandfather, and early Detroit ad man, serves as a muse for the brand's identity. Studying his personal journals from the 70's & 80's were the starting point for the Autumn Winter 18 collection.
A precise consideration for colors and feelings are referenced as an intention is made to create garments that feel as if they were taken from Ernest's closet. Shades of brown leather, tonal checks and handmade sweaters in a chunky mustard yellow are used in reference to a palette of the 70's, while the injection of color in purple velvet and electric blue give a more optimistic feeling of the 80's.
The aesthetic is then taken forward, drawing from the perspective of David Lynch. Inspired from the surrealistic world developed in his "Twin Peaks" series, a link is established between classic European dress and a western American spirit.
Long, oversized coating is an important aspect in the collection, creating a sense of mysteriousness. John Wayne hats, tuxedo shirts and classic check patterns are a nod to an Americana style, while the structured blazers, ascots and velvet tailoring are inspired from a classic European elegance. Although the looks present a pure rigidity, there is a sense of irony in each of them, with an intention to convert the model into an Ernest character playing in the Twin Peaks series.