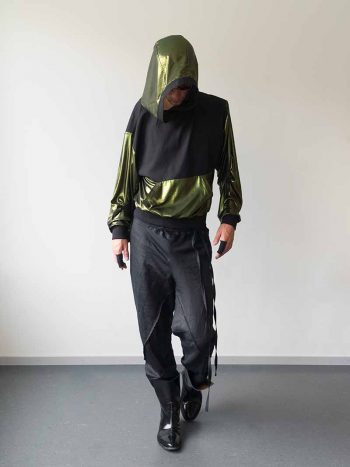 PARIS MEN'S WEEK/ — Marosbaran is an artist and a fashion designer from Slovakia, currently based in Paris.
Presenting his collections as hybrid projects – clash of performance, fashion show and video art has became a signature of his presentations.
After internships at Acne Studios, JW Anderson, Chalayan and AF Vandevorst he moved to Paris, where he is planning to present his latest hybrid project THE IMPERIAL PHASE.
THE IMPERIAL PHASE was presented by a No-Model-Show performance, in which the designer continuously changed look each hour, starting with look nb.1 (7AM) and ending with look nb.19(01AM) for a duration of 19 hours. Each look was worn/presented for one hour. One hour only.
The visitors entered a paradox space, which was a hybrid clash of a private appartment, showroom, cinema and artist´s atelier.
His previous project was presented in Mirror Maze and Kaleidoscopic Cinema in Prague and won National Prize for Design in Slovakia.
MAROSBARAN currently focuses on menswear and definition of the paradox.
Photos courtesy of Marosbaran