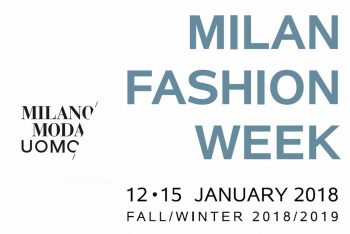 Scheduled for 12 to 15 January 2018, this edition of Milano Moda Uomo is staging 30 fashion shows, 25 presentations, 8 pre¬sentations by appointment and 12 other events on the calendar, featuring a total of 63 collections.
The big novelty this time is the Padiglione Visconti in Via Tortona 58: this is the new venue that Camera Nazionale della Moda Italiana is providing for new brands and "Supported by CNMI" brands. It will host a total of 7 appointments, including fashion shows and other events.
For some seasons now many brands having been choosing Milano Moda Uomo to present their men's and women's collections together, so in this edi¬tion too there will be a number of co-ed fashion shows: Diesel Black Gold, Isa¬bel Benenato, Neil Barrett, Marcelo Burlon County of Milan, Dsquared2, Daks, Sartorial Monk, Palm Angels, GCDS and Frankie Morello.
Four new brands will be showing for the first time at Milano Moda Uomo this season: Isabel Benenato, an Italian brand founded by Isabel Vitiello, Hunting World, a long-standing New York brand founded by Robert M. Lee in 1959, and Represent, a UK brand set up by brothers George and Mike Heaton in 2012. Also showing for the first time on the calendar, thanks to support from CNMI in this case, will be Sartorial Monk, an Italian brand springing from the creative genius of Sabato Russo.
Over the four days of this Milano Moda Uomo there will also be shows by Federico Curradi, Sulvam, Sunnei and Yoshio Kubo thanks to support from Ca¬mera Nazionale della Moda Italiana. The week will close with a special event, this too supported by CNMI, held at Spazio Maiocchi.
There are big novelties in the presentations too, with a number of interna¬tional brands on the calendar for the first time: Big Uncle, Maurizio Miri, Mila¬no140, Tommy Hilfiger and Biuu.
This Milan Fashion Week can be enjoyed live on the website milanomodauomo. it, with streaming of the fashion shows, videos and photo-galleries of the collections via CNMI's App and on its social channels (Twitter, Instagram (@cameramoda), Facebook), with real time updates on the events.
This is going to be a fashion week that brings down the barriers between fa¬shion shows and other forms of expression, and between big-name brands and new entries, in the spirit of contamination that characterizes modern fa¬shion.
Special thanks for making Milano Moda Uomo possible must go to CNMI's sponsors Ethiad, Illy, Mercedes-Benz, S. Pellegrino and UniCredit and to its partners Class Editori and Consorzio Franciacorta and institutional partner the Municipality of Milan.
STATISTICS
TOTAL COLLECTIONS: 63
30 fashion shows by 30 brands
25 presentations by 25 brands
8 presentations by appointment by 8 brands
12 other events
New names showing at MMU in January 2018:
ISABEL BENENATO
SARTORIAL MONK Supported by CNMI – White
REPRESENT
HUNTING WORLD
Names showing once again at MMU as Supported by CNMI brands:
FEDERICO CURRADI Supported by CNMI
SULVAM Supported by CNMI
SUNNEI Supported by CNMI
YOSHIO KUBO Supported by CNMI
New names presenting at MMU in January 2018
BIG UNCLE
BIUU
MAURIZIO MIRI
MILANO140
TOMMY HILFIGER