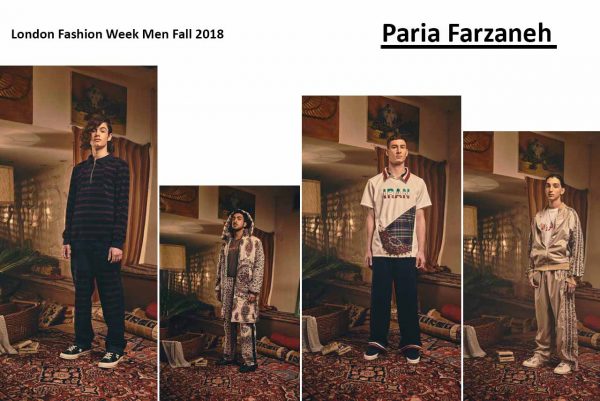 LONDON, Jan 8, 2018/ — Dedicated to Fereshteh Farzaneh and Hossein Farzaneh
Iranian born, Paria Farzaneh holds her cultural roots at the core of her brand DNA. For Autumn Winter 2018, menswear designer Paria Farzaneh draws inspiration from a fusion of memory, identity and profession. Combines these ideals with her Iranian heritage, results in a lavish array of artisan hand printed Iranian fabrics paired with simplistic British traditional shirting and tailoring materials. A mixture of sports and technical fabrics are sighted throughout and seen with a brazen colour palette and thick patterned fabrics.
With focus on looking back at traditional Iranian clothing from the 1970s to present day, she pinpoints the bold local style and analyses how their working profession aesthetically impacts their daily dress. Merging this with inspiration from her London life results in a fusion of strong culturally fused pieces with a contemporary Western twist. Much like the life of Paria Farzaneh, these pieces have no boundaries and are layered together to create something unique allowing us to share and development new ways of dress. Statement silhouettes are a combination of traditional Iranian shapes and modern British technical pattern cutting.
Paria Farzaneh is conscious of the pieces representing the wearer in their unique way. When casting for shows and campaigns, care is taken to build looks upon the characteristics of the wearer and layers to create structured silhouettes accordingly.
"I only use what I have been surrounded by my whole life, which all contributes towards my identity" – Paria Farzaneh
Photos courtesy of Paria Farzaneh