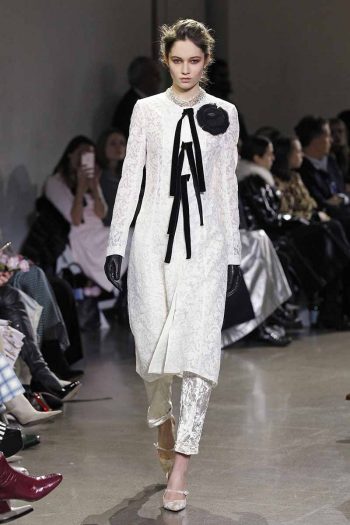 NEW YORK FASHION WEEK/ — " We believe in the notion that romance is timeless," said design duo Laura Vassar Brock and Kristopher Brock on their press notes for Fall 2018. And to make that point, they sent silhouettes that echoes elements from the Regency era to the golden age of the silver screen.
From Hollywood's fantasy to Grand Central reality, there is an ever-shifting ambiance in romance. And this quality is highlighted in the collection with its eclectic references that were cleverly manipulated to make an articulate and clear statement.
This collection channels that crescent, by starting with repurposed floral vintage jacquards, and layering in variables that mirror romance's unlimited range: velvet ribbons, raw-edges, filigree bodysuits, flat-front trousers, leather gloves, air-light lace, organza and tulle flowers, and much more.
The intent is not to be precious or prettified, but rather, to reflect something polished and confident-with-age; an assurance that, even when the fireworks and the cinema seem distant, romance will live—and resonate—always.
French renowned jeweler Marie-Hélène de Taillac designed a limited collection of exquisite jewels in collaboration with Brock Collection, including 28 astonishing pieces ranging from long strand necklaces to drop earrings in various lengths.
Photos by Dan Lecca, courtesy of Brock Collection