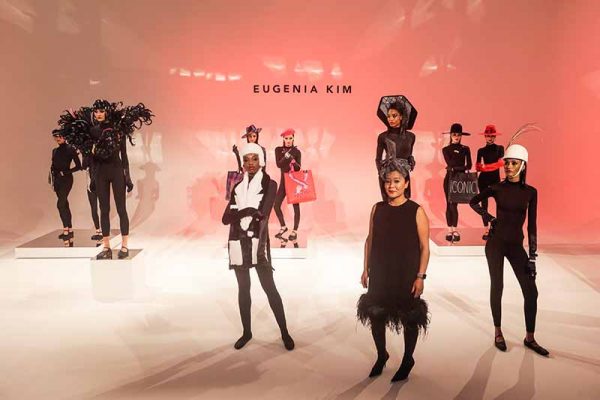 NEW YORK FASHION WEEK/ — Two shows in one, famed milliner Eugenia Kim unveiled her Fall/Winter 2018 collection while also putting on display a retrospective of her 20 years crafting unforgettable hats.
Held at Pier 59 Studios on February 8th, Kim drew inspiration from glamour and inherent excess for her latest collection. As for her retrospective, the milliner dug through her archives to recreate the brand's most iconic items showcasing how Eugenia Kim continues to evolve season by season. Paying homage to her top styles throughout the years, Kim showcased how the brand continues to evolve season after season.
Joining the fashionistas who came to view both the exhibit and the Fall 2018 collection were included Lady Kitty Spencer, Luanna Perez-Garreaud, Krystal Bick , Charlotte Groeneveld, Emily Men and Simon Collins.
A diverse cast of 12 models wore Eugenia Kim hats, scarves and handbags that both embodied glamour and surrealism for the Fall 2018 collection. Key pieces included equestrian caps with multicolored feather quills, geometric-brimmed hats with Swarovski crystal embroidery, calf leather shoppers and fanny packs, tuxedo scarves, an asymmetric-crown fedora, turbans and red leather berets with crystals.
Photos by BFA, courtesy of Eugenia Kim