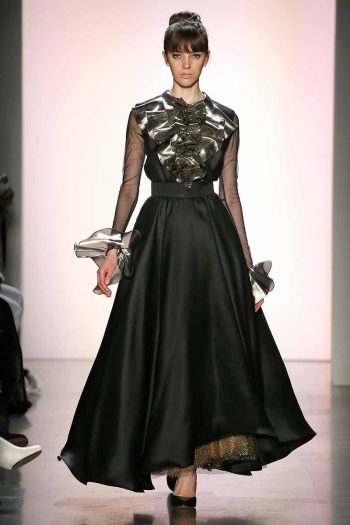 NEW YORK FASHION WEEK / — A collection composed mostly of eveningwear, one can easily guess that the Irina Vitjaz woman is part of their home town or city's social set. From floor length gowns to above-the-knee cocktail dresses, she walks in beauty when she enters a room.
And if we transfer these women to Hollywood, we will see them on the red carpet at various awards ceremonies or movie premieres.
With Vitjaz's ancestry closely tied with the Russian Tsars and monarchy, it is no wonder that she leans on designing opulent dresses. Tracing her family all the way back to the 17th century, it shows that her ancestors were among the aristocracy and a mainstay in the royal court. During that period, the women in her family experienced life as Fräulein (Maids of Honor).
As a young girl, Vitjaz was inspired by her predecessors, developing an affinity for luxury and elegance. Some of her earliest memories include time spent in the shop of her grandfather who was a master tailor. It was there that she began cultivating her keen eye for fine design and a lifetime appreciation for culture and design.
Today, the opulence of dress from Vitjaz's lineage can be seen in her collection's use of jeweled colors, rich fabrics, and fine detailing. Her collaborators have included like-minded design houses such milliner Philip Treacy, and Swarovski.
Among of her illustrious clients is the renowned opera singer Ana Netrebko. The Irina Vitjaz Fall/ Winter collection's inspiration, in the designer's words, "is the woman who can do it all and look feminine and elegant doing so."
Photos courtesy of Irina Vitjaz