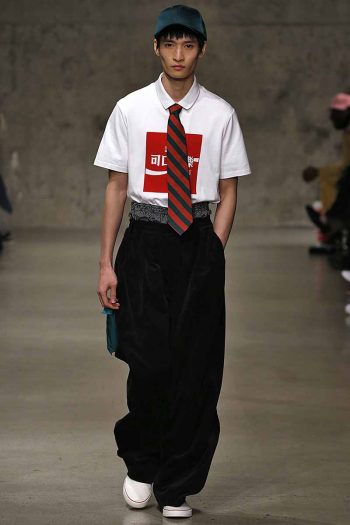 NEW YORK MEN'S WEEK/ — Chinese fashion group PEACEBIRD made its New York Fashion Week debut, which was their first appearance in the international market.
A part of the China Day Autumn/Winter 2018 runway show, the design mode of this season's Peacebird collection combines Chinese campus fashion from the eighties and nineties with contemporary street fashion thus redefining Chinese fashion for a new generation.
PEACEBIRD took inspiration from the Chinese pop culture of the eighties and nineties then mixed it up with 2010s street fashion. The brand proposed unisex clothing looks in this mixed gender catwalk show. But, it does not end there. PEACEBIRD also wants to reach the young people of New York and make them aware of the new Chinese consciousness for fashion.
In this first show overseas, PEACEBIRD awakened campus dream of a young generation. The brand particularly chose 'serious and lively' gymnastics music in the 1980s and 1990s as background music to show the Chinese athleisure and preppy trend, which made the brand young, unpretentious, sincere and effortless chic.
Titlee "New Studentism," the collection highlighted the tendency of vintage aesthetics among the young generation while also showing a lot of unexpected details.
Although Chinese school uniforms used to give people a boring impression, the popularity of vintage style contributed to the focus in unisex clothing such as white shirts, blue pants and white sneakers, which was also an inevitable part of fashion. Surprisingly, PEACEBIRD presented a collection created with an iconic American brand, Coca-Cola, in the show. The interesting interaction between Chinese pop and this American brand strengthened the fearless and brave attitude of young people.
Photo by Don Ashby, courtesy of Peacebird