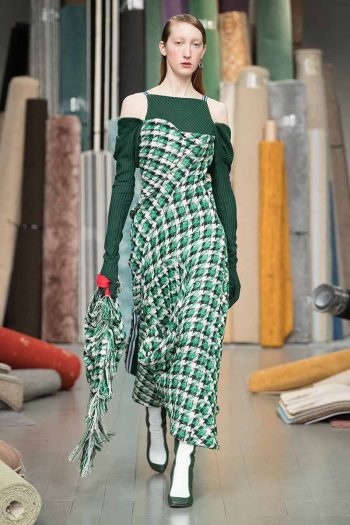 LONDON FASHION WEEK / — This season Richard Malone considers the twin themes of community and common purpose.
For Fall 2018 the designer imagined his cast of characters gathered around a pub table; today we take a journey through the market stalls of the working class towns of his youth. Some references are literal – hand-woven aprons and headscarves, artisanal jewellery – some are societal. It looks at markets and their role within the social fabric of communities; as honest and authentic spaces in which resourcefulness thrives. As, in other words, a level playing field.
Zadie Smith's vivid chronicling of markets and public spaces in North London's Willesden in White Teeth and later in NW, offer further inspiration. Malone comments: "The way she describes the place that she comes from strikes such a chord with me. I understand the beauty she sees in those places – that sense of vitality." Malone's personal experience of the magic of marketplaces began in his hometown of Wexford, via the extraordinary and eccentric Unyoke Market – where handcrafted bric-a-brac sits alongside stolen power tools. The designer talks fondly of aunts who ran stalls selling miniature crochet dresses made for folk dolls, fashioned from sea shells.
Intrinsic to this young label is an ongoing study of, frustration with, and amusement at the idea of vulgarity. Years of exploring what people find banal within a design context has brought Malone to his signature talent: taking the unremarkable, and rendering it exquisite. As such, the collection is peppered with willfully unrefined details. Turbo-sized shoulder-bags with floor-length tassles are hand-woven entirely from recycled plastic. Trousers and aprons in recycled viscose are realized in 'Milk Tray' purple. Repeat checks of every shape and size are reminiscent of scraps of fabric found on factory floors. Malone comments: "I cannot stand the idea of 'good taste.' The idea that there is only either good or bad – one or the other. It's so arrogant, and so short-sighted, to overlook what might lie in between."
Sustainability is a given for the brand. Fabrics are sourced from the community of female weavers in Southern India who have worked with Malone since his graduate collection. Functionality is stitched into every piece. Evening gowns are machine-washable. Riding coats inspired by 14th Century menswear have side-closures for ease. Blocks are cut in circles – almost no seams are straight – to ensure the smoothest lines around the body. S
Silk trousers have tracksuit-inspired seams to ensure they sit against the skin in the most comfortable way possible.
A charmingly skewed take on glamour underpins the show. Listen closely to today's soundtrack and you will hear a would-be leading lady, captured at Wexford Market, tell the story of her beauty being compared to Elizabeth Taylor… underscored by Rihanna's Bitch Better Have My Money.
Malone muses that a common misconception of modern working class communities sees the role of women as subservient – an assumption that couldn't be further from his experience; One where iron-fisted women make every call, and young men are at once fiercely protective, and deeply terrified, of their mothers. And so, from Elizabeth Taylor, to his eighty-five year old grandmother Nellie Malone – who joins us for the show this morning – Malone dedicates this collection to every heroine who knows how to hustle.
Photos courtesy of Richard Malone