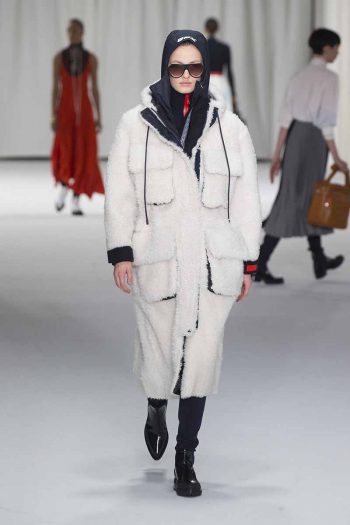 MILAN FASHION WEEK/ — Sportmax is poised on the starting line with a Winter 2018 collection made of luxurious and high-tech fabrics. Sportmax is ready to race down the snowy slopes and icy sidewalks of the super cities of the world. F
rom Courchevel to Milan, from Gstaad to New York, from Cortina to London and from Aspen to Paris, the chromatic range of the latest must-haves emerge in decidedly color block style: the neutral tones inspi­red by men's wardrobe are mixed to sporty green, red, yellow and blue.
The logo becomes a shield: SPX. In addition, like a sports team bib "Sportmax since 1969" pops up on boots as a reminder of the brand's upcoming anniversary. Five decades dedicated to design are a true milestone and they mark the brand's never-ending flirt between fashion and comfort.
A back flip tosses us back to the 80s with wide-shouldered puffer coats made of goose down combined with the latest in technological fabrics. A collection of quasi-infinite proposals for the cooler months that feature a range of lengths along with outerwear, hoods and removable quilted collars which transform the looks of coats, jackets and sweaters with the use of layers.
Between the leggings and stretch ski pants, the pants are often à trompette. The skirts and dresses, from pleated to narrow to even flared, are fastened with zippers in order to show off or hide everything, depen­ding on the mood. Classic lines and technical design come together in every look. The concept of mo­vement dominates the remix of cashmere, nylon, wool, viscose, lurex and technical jersey.
The menswear fabrics are lined with wool or nylon. The houndstooth weave is coated with a high-tech veil giving it more light. The jacquards become lightweight with the addition of acetate or viscose inserts. The sweatshirt steps out in jersey or cashmere and satin, combined with high-tech materials, shows off its sensual side.
The flexibility of the body and soul is featured in the high-performance knitwear that shapes the silhouette with sweaters cut like the uniforms of ski teachers. The turtlenecks illuminate the face with their diamond motifs, giving the sense of a foulard at the neck. Brogues, short booties, over-the-knee cuissards and shoes with rubber-treaded soles facilitate movement across wet and frozen surfaces whether sporting a belt bag on the hip or a mini bag in the hand.
The extreme combination between classics and technology defines the new attitude of Sportmax.
Photos by Indigital, courtesy of Sportmax