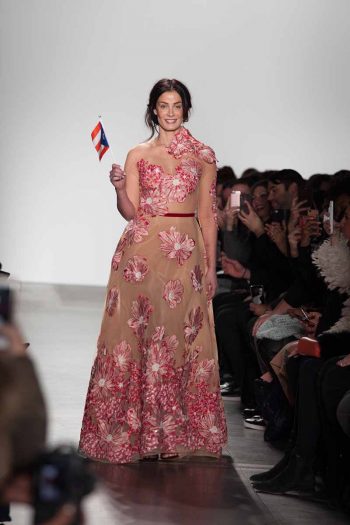 NEW YORK FASHION WEEK/ — Using the catwalk as a political platform is nothing new, but Stella Nolasco's political stance on the runway is a call to action to help her native Puerto Rico which is still from recovery from the devastation of Hurricane Maria.
Stella was working on her S/S 2018 collection before the hurricane hit the island, and her Spring fashion show was scheduled for the third week of October. Not only was Stella's home flooded, many of her seamstresses lost everything and her studio in San Juan still to this day must run a power generator as they have no electricity. From what she was able to rescue, Stella has created a F/W 2018 collection which was presented during the runway show at NYFW.
"There is some black in this fall/winter collection, however, colors predominate. That is how life should be…" says Stella Nolasco. "When my home was flooded, all of the plants in my garden died. One plant survived, however – the "Red Kiss Rex Begonia," whose leaves are red and heart shaped. This inspired the last group of the collection, which is composed of richly textured pieces in red tones."
For Fall 2018, Stella imagines a confident woman who is not afraid to embrace her sexuality and who claims the respect she deserves. "Clothing is a way of expression, but you should not have to sacrifice your feminine essence for the world. Girly and feminine can be strong."
Sheerness, lace, feathers, and soft silhouettes can be embraced by the woman of the 21st century who knows her rights and her capacities. Maybe we must seek to effect change not by challenging contemporary fashion ideals of femininity, but by conforming to them.
For Stella, the catwalk show is just the beginning in her effort to help her home island. The designer is collaborating with Foundation for Puerto Rico to spread the message of awareness as well as donating a significant part of the collection shown on Feb.8th, to be auctioned off at a later date benefiting the cause.
The show took place at Pier 59 Studios Hometown favorite Águeda López (wife of Luis Fonsis) also modeled in the show, carrying a sign emblazoned with "Equality is Sexy," embodying the message with beauty and strength. Dayanara Torres closed the show happily waving the Puerto Rico flag to a cheering crowd and a standing ovation.
Photos courtesy of Stella Nolasco