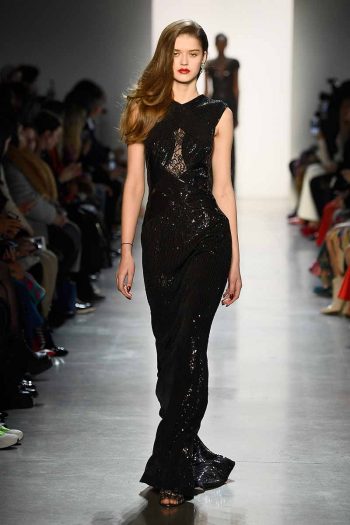 NEW YORK FASHION WEEK/ — At a time of uncertainty and with the stock market going haywire, designer Tadashi Shoji that is soothing and upbeat. Inspired by the woman who enchants life with sensuality and color, it is all about joie de vivre for Fall/Winter 2018 for the Tadashi Shoji woman.
Bold and unapologetic, her confidence is the source of her beauty. Taking cue for Kate Moss who has been quoted saying "I don't do boredom," the Tadashi Shoji woman oscillates between strength and grace. She wears it brazenly, shimmering in crystal diamanté. She combines formidable asymmetry with cursive movement.
Unflinching and unafraid, she renders you speechless with her eloquence. She captivates your eye and holds your gaze. Self-assured and statuesque, she strikes with awe in bold hues and bare shoulders. She is a minimalist in boredom and a maximalist in the joy of living.
She accentuates her curves by way of cut, line, and silhouette. She is a fluid, dazzling vision of modern femininity. The collection is a celebration of her exultation of spirit. Her ease reflected by sinuous draping. Her radiance is symbolic in golden hues. She obeys her heart and defies the minds of others.
Photos courtesy of Tadashi Shoji