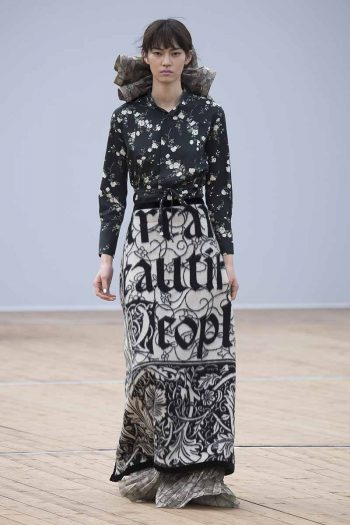 PARIS FASHION WEEK / — Encounters.
A primal story of angles and lines.
Primeval as the urge to wrap and cover up.
Primary as male meeting female, discovering each other.
Opposites that merge and flow, liquefying one into the other to become one.
Diagonals: that's where ends meet.
A wardrobe of masculine suits, boyish outerwear and dresses, cut on the bias to wrap the body in womanly ways.
The structure of the tailored cut embraces the softness of draping.
Construction morphs into wrapping, control accepts letting go, strict welcomes fluid. And the other way round.
The front and the back collide, finding their harmony on the bias as tailoring regains the primal bliss of the blanket state, when fabric was left uncut.
An interplay of opening and closing, of straight lines, diagonals and curves.
Complexities are solved easily, around the female form.
The firmness of fine tailoring wools and heavy blanketing becomes liquid on the bias as a muted palette of neutrals is touched by soft make-up pastels.
A way to look at classics that makes them unexpected, like seeing something familiar from a new angle or a flip of perspective.
Ends that meet, endlessly.
Encounters, for days on end.