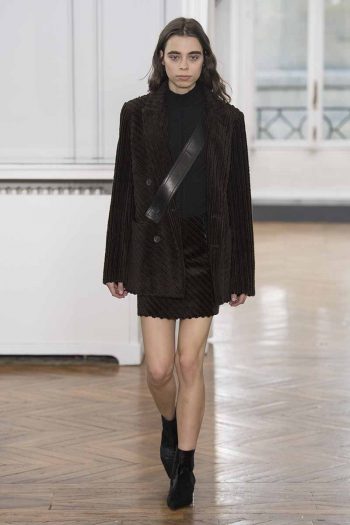 PARIS FASHION WEEK / — With the Fall / Winter 2018 collection the designer Marie-Christine Statz continues to build on her signature style.
Blind Trust by Cabaret Nocturne opens the soundtrack of this season's Défilé – the musician is known for his fusion of 80s pop, dark basslines and unhinged house beats. This indicates, where the collection is coming from. The designer is sticking with her play of menswear and womenswear and her mastered to perfection suiting but mixes it up with playful grunge-inspired prints and surprising techno-fabrics in vivid colours.
The shoulders of blazers and blouses grew wider this fall. The volume sits well with the slit details that are a key design element throughout the whole collection. Coats and knits feature slits up to the elbows accentuating the super long sleeves. Wool pants show them with contrast piping around the ankles.
As per brand DNA, the designer has a focus on coats. One highlight this season is the fitted trench coat made of calfskin with an all over leo print. The nature of the material underlines the tailored character of the piece. Other standouts are padded oversized coats and parkers that close with cross body leather sashes and sportswear inspired caps.
The 80s-influences show most in the leo inspired polka dot print that comes in a voluminous strap dress styled over a blouse of the same print or in a boyish mini-dress with colour-block within the print. All pieces are made of semi-transparent crepe de chine silk.
The strong monochrome looks, GAUCHÈRE is known for, come in a hunter green and a crème-white wool as well as chocolate brown velvet corduroy this seasons. Sleeveless coats and different layering shown in the Défilé give a whole new power to the suiting.
Overall the collection is defined by its mix and contrast of textures, fabrics and volumes: techno-velvet is mixed with smooth lamb leather, calfskin with brushed mohair knits, chunky off-the-shoulder knits with silk dresses.