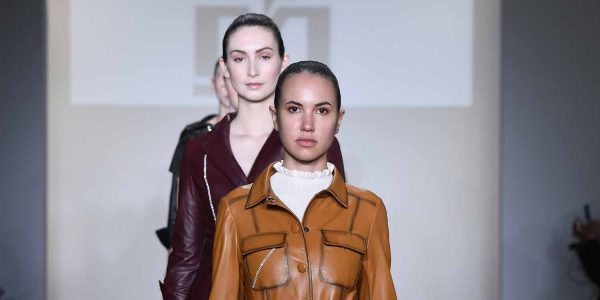 NEW YORK FASHION WEEK / — Vancouver designer Melissa Yin showcased flattering cuts with her leather-based brand, presenting 'Nine to Five'- a collection of fashion forward pieces to take you from day to night.
Bright lipstick red leather was contrasted with cream and black shades in fitted silhouettes. An elegant full-length black dress with short-capped sleeves and a cinched-in waist formed a striking look. An inspiring attention to detail was shown with silver star-shaped zippers and rhinestone trim which beautifully caught the light.
The Melissa Yin Fall 2018 collection was shown under the banner of the Global Fashion Collective at New York Fashion Week on Thursday, the 8th of February 2018. Meant to showcase the work of cutting-edge designer, their experimental F/W 18 collections create powerful messages by the influence of personal and artistic expression. 'Conceptual Artistry' is an avant-garde selection of conceptual work with an haute couture feel.