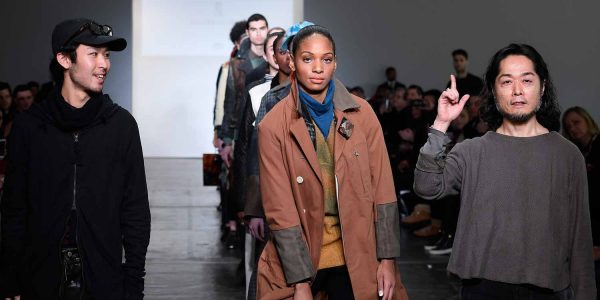 NEW YORK FASHION WEEK / — Japanese brand WILDFRÄULEIN71 put forward a unisex collection inspired by the strong but transient beauty of a woman with a courageous man by her side.
Designer Roop Shimura brought a more artisanal feel to the collective show, looking into the conceptual relationship between energy and form. An eclectic mix of colour and texture, layered outfits were pieced together with matte and shiny textures in autumnal shades.
A highlight was a yellow knitted button up dress paired under a belted red check jacket, with a green pageboy hat to complete the look. In an artistic manner, painted glass art pieces were carried by the models, who at the end of the runway, pointed to the sky, and announced their names and where they are from. An expressive presentation to close the show.
The Wildfräulein71 Fall 2018 collection was shown under the banner of the Global Fashion Collective at New York Fashion Week on Thursday, the 8th of February 2018. Meant to showcase the work of cutting-edge designer, their experimental F/W 18 collections create powerful messages by the influence of personal and artistic expression. 'Conceptual Artistry' is an avant-garde selection of conceptual work with an haute couture feel.