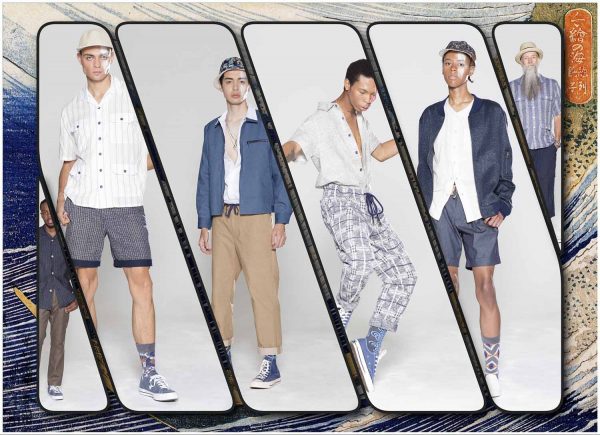 Walking inside the room housing the Krammer & Stoudt Spring 2019 collection at New York Men's Day #NYMD Creative Drive venue at 55 Water Street, the first thing you notice aside from the models, of course is the wall that digitally displays the work of Japanese artist Hokusai.
With the models walking like pedestrians in Tokyo streets with a "street musician" playing the violin, you feel like you were transported into another time and space. Yet, the time is now and the place is a metropolis, but not New York City and not today.
Such is the paradox created by designer Mike Rubin whose first visit to Japan this past spring inspired this collection which he aptly titled "8 Days in Japan."
Loose fitting trousers that are either cropped short to show the ankles, or long enough that you have to fold the hem the aura is definitely casual. Surprisingly, it did not evoke streetwear. Instead, there is a certain formality to it, though they will never be mistaken as part of a three-piece suit.
Jackets are loose and have taken elements from the kimono. The button-down shirt has been re-imagined to include both eastern and western influences with a very light touch of streetwear. And like many Japanese-inspired clothing, this collection stand on its aesthetics.
Don't surprised if many, if not all the pieces find space in a young man's wardrobe.
Photos courtesy of Krammer & Stoudt