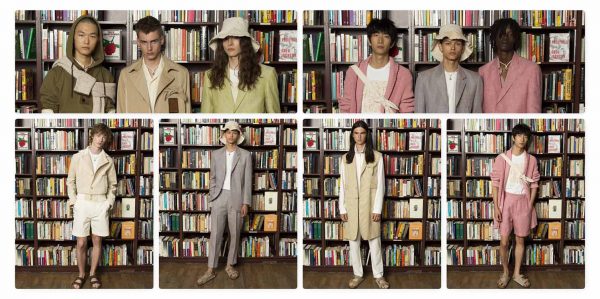 Arguably the breakout star of the Spring/Summer 2019 New York Menswear season, Victor Li proposes refined silhouettes that are sharply tailored yet softly drapes on the body.
A graduate of Parsons School of Design, Li's debut collection "features two patterns created from illustrations of the designers' faces, hand drawn by Victor. Signature silhouettes include elevated tees, casual jackets and modern suiting in fresh cuts, finished with idiosyncratic details and crafted for the customer who craves a smart yet easygoing alternative to streetwear."
In his press notes, the designer said that "VICTOR LI is designed by and for the new breed of gentlemen." And I agree. In a menswear season dominated by streetwear, finding a bespoke collection is like a breath of fresh air.
The venue was also perfect. A bookstore designed to look like a library, the atmosphere was evocative of old world charm (who still reads hard copy book in the iPad era?) worming itself to the modern world of the prepster.
That said, I have to add that this collection also made me think of the upcoming movie, "Crazy Rich Asians" and all three books that made up the trilogy. These thoughts came before I found out that the designer comes from a jet-setting family, as mentioned in the short bio distributed to the press.
My first thoughts were of Nick Young and Colin Khoo, two of the main characters in "Crazy Rich Asians." Both were products of the exclusive prep schools in Singapore and then sent to England to study in either Oxford or Cambridge. Both retained their Asian sensibilities while incorporating the formality of European culture in their repertoire. If this collection was created before the movie was filmed, I would not have been surprised if the costume designer chooses these for Nick (played by Henry Golding) and Colin (played by Chris Pang).
With that in mind, I expect the Victor Li Spring/Summer 2019 collection to be a hit. It might not be groundbreaking the way "Crazy Rich Asians" is, but it is definitely a new take on refined dressing for men!