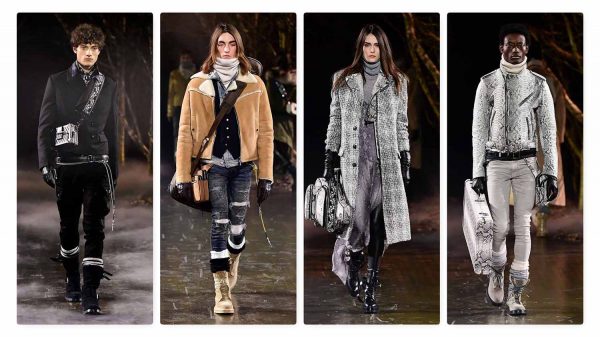 From California to Paris, the Amiri men's and women's collection for Fall Winter 2019-2020 is another step forward – a conscious evolution for Creative Director Mike Amiri. Grounded in escape and rebellion, the season channels the call of nature – evoking a musician's instinct to seek inspiration far from the bright city lights.
Intrinsic to the Amiri universe, meticulous techniques create antique accented garments with an authentic hand and a rock 'n' roll soul. Across the men's and women's collections, tones fade off the color wheel into an autumnal palette. Laidback stories are told through nostalgic nods to the west, as military shapes and details abound.
From thick-pile cashmere tailored coats to shearling trapper jackets, lumberjack checks and sparkling tweeds, opulent outerwear is imbued with a lived-in feel. Hand air-brushed in L.A., nostalgic printed tees and mud-dyed shirting is layered beneath sweaters and cardigans in dropstitched knitwear or tie-dyed cashmere, all worn over signature pant styles.
Stage-ready jackets are embellished with bugle-beaded manuscripts, crystal- strewn satin, starburst studs, and hussar rope embroidery.
Throughout the women's collection, hard and soft textiles create seductive contrasts, as leather perfectos are slung over chiffon blouses, handkerchief hem dresses and cropped denim. On foot, motocross and western boots are strung with laces and studded hardware, whilst guitar cases become luggage and backpacks.
The first women's handbag is a quilted leather box bag in the shape of an amplifier and a guitar cord jack closure to reinforce the inspiration that sometimes you need to unplug to open something new.