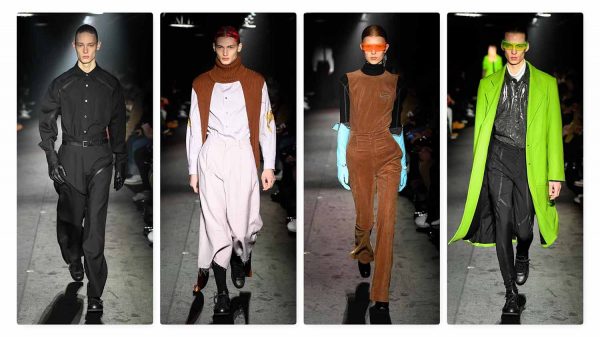 This season designer Masanori Morikawa's AW19 collection entitled "Signal Noise – S/N" takes its cue from the 1994 art performance piece of the same name staged by Dumb Type, by a Japanese artist collective whose productions addressed minority, gender, sexuality, nationality and environmental issues.
Inspired by the aesthetic and political components of the performance piece "S/N" in which there would be no more borders and stereotypes, Morikawa developed a collection rich in construction details, embellishments, colors and prints, nodding to hope and his idea of a chaotic modern society also having its positive sides.
Divided into sections of colors, prints and chic, austere, black silhouettes, the runway looks slowly burst into fresh colors including lilac, blues and a bright acid green.
Knitwear looks in a myriad of multicolor stripes recall giant video monitor screens, and colorful collage prints, inspired by video artworks, like thermal visuals of anatomy, nod to the notion of chaos.
The striking bespoke jacquard woven with poetic texts written by Morikawa in Japanese typography evokes the effect of white noise video image on men's and women's coats.
Expressing a subtle nostalgia and the passing of time, a discreet patina surfaces on a black flocked denim cropped jacket and pant for women, or on the coated shiny fabric of large pants, long skirts and shirts which are overdyed and washed to achieve an almost imperceptible wrinkled motif.
Embroidered elements such as angel wings and the word DREAMER on a oversized black and lime tie-dye fleece like a heart-rate monitor, surface throughout the collection on the shoulders and sleeves of tailored jackets, bombers and shirts, emphasizing the evocation of hope and salvation.
Photos courtesy of Christian Dada