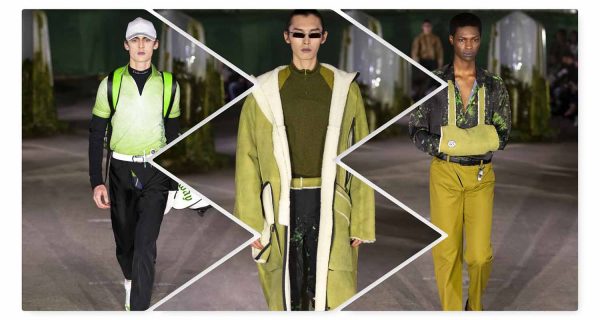 Designed by Matthew Dainty & Ben Cottrell, the Cottweiler Autumn-Winter 2019 collection takes root from the subterranean floor of a London car park challenging traditional masculine dress codes.
Titled, "The Lost Art of Cruising" and shortly defined as "the affects that technology has had on human face-to-face interaction," the key element is "thermalregulation soft shell" as epitomized in the moss green printed silk trousers and shirts with Mohair applique, natural wool insulation and hand dyed Merino shearling.
A capsule collection of 10 raincoats sees COTTWEILER's conceptual designs combine with the heritage and technical expertise of Allegri, the Italian outerwear specialists.
The Allegri raincoat tradition has been combined with the futuristic vision of the sportswear tailoring of the British duo, Ben Cottrell and Matthew Dainty, giving life to a new concept of metropolitan outerwear, that becomes the perfect synthesis of the casualwear style and the tailoring expertise typical of the Allegri DNA.
For footwear, COTTWEILER teams up again with REEBOK proposing this season a new type of footwear, the "sneafer" (sneaker-loafers) and trainers.
The tension between natural and tech, sport and fetish, remains central to COTTWEILER concepts and design practice.
And the accessory de rigueur – eyewear from Andy Wolf, Austrian eyewear specialists.
Photos courtesy of Cottweiler