Jumping into our coverage of Milan Men's Fashion Week, here we're sharing some of our favorite Fall/Winter 2019 collections we've seen so far.
Temporarily transformed into a makeshift runway, the cavernous ceilings and stone steps inside the Milano Centrale railway station set the stage for a collection that was a connection of diversities. A gentle sense of formality headed the feel of Ermenegildo Zegna's men's Fall/Winter 2019 collection, balancing out the fast-paced, connected lives of those following the industrial drum of the concrete jungle around them. Bomber jackets and cargo pants boasted finely tailored details, hooded sweatshirts were paired with neat trousers, and a dark palette of military neutrals presented an elevated collection of effortless style. Highlights included the metropolitan print jacquard overcoats and the Cesare sneakers, which will be available for personalization.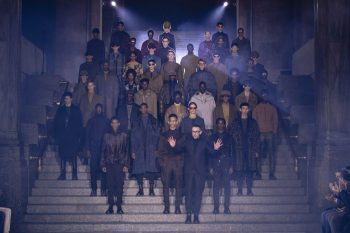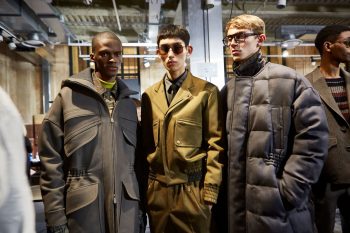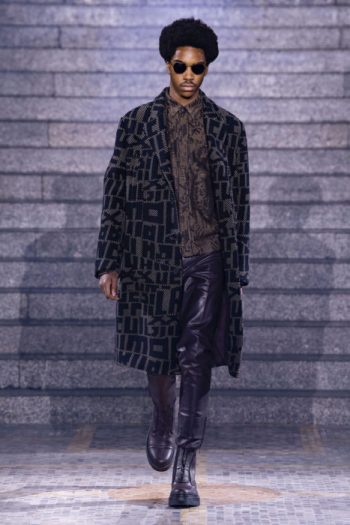 Etro presented a dreamlike installation for its Fall/Winter 2019 collection inside its via Monte Napoleone boutique. Painting together magic, dreams, and poetry, the brand animated its new collection with the things of storybooks—enchanted forests, fairies, elves, and no shortage of flowers. Humanoid figures displayed the season's new garments throughout the boutique and perched from its exterior, while giant heads were plastered with scenes of utopian fairylands. Lush, indulgent colors like forest greens, royal purples, and rich magentas were seen throughout the collection, paired with mixtures of floral and plaid to create the feel of something that might be worn by a character in Alice in Wonderland. A standout detail was the surrealist embroidery like metallic dragons and chickens with human heads.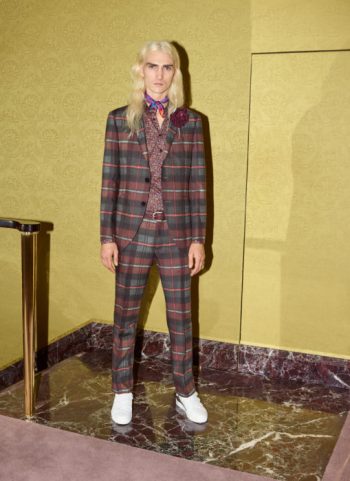 Across a field of spiky foam floors lit dimly by glowing bulbs, Prada presented its men's Fall/Winter 2019 collection inside the Fondazione Prada's industrial Deposito hall. Evoking a scene not unlike one found in an eerie science fiction film, models trekked through the spacious hall dressed in modified takes on your classic menswear looks. All-over black suits were worn open and shirtless, oversized sweaters and trousers were belted twice over to create cinched waists, and unexpected color pops made a welcome appearance among the sea of black and gray. Standout pieces included the roomy take on military-style jackets and the brightly hued furry trapper hats.