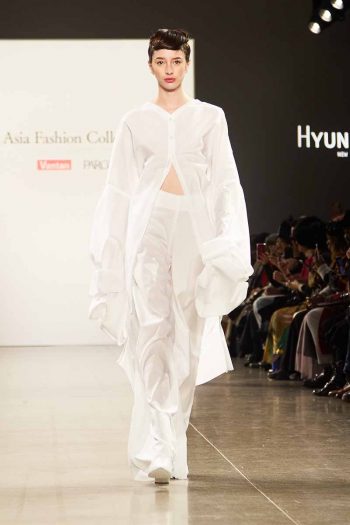 Hailing from South Korea, HYUN JUNG by Hyun Kyeong Jung is one of the seven brands that presented its collection during New York Fashion Week under the Asian Fashion Collection banner. Hyun Kyeong Jung is a graduate of Parsons.
Asia Fashion Collection is a project to discover and incubate young Asian designers in collaboration with Asian organizations aiming at further development of fashion industry in Asia.
Asia Fashion Collection, Korea Fashion Association, Taiwan Textile Federation, Hong Kong Trade Development in collaboration with the bureau, select young designers brands representing each country and offered the opportunity for a runway debut at Mercedes-Benz Fashion Week Tokyo and New York Fashion Week.
Later, the designers can also participate in commercialization support programs for sales and orders in Asia including Japan.
Photos courtesy of Asian Fashion Collection.