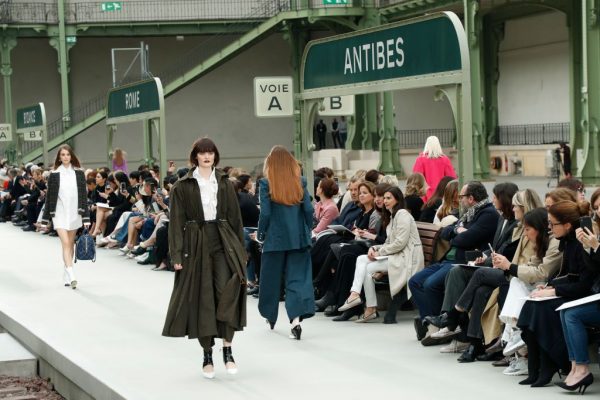 This afternoon Chanel presented its first Cruise Collection since the death of their creative director Karl Lagerfeld. Chanel's signature location, the Grand Palais, was transformed by the house's artistic director Virginie Viard into a compilation of train stations in ode to some of the world's great vacation spots. This was the concept Lagerfeld had discussed with Viard prior to his death, from Venice to Bombay, to Saint Tropez, to Le Riviera, several spots were represented in the space. The show's inspiration in itself was a recollection of the love Chanel's founder Gabrielle Chanel and late creative director Karl Lagerfeld had for train stations.
On August 28, 1952, I arrived at the Gare du Nord in Paris. The city seemed to me to come straight out of the movies and books that had me so fascinated. I came here to spend two years in high school, but my stay in Paris was a little prolonged, recalled Lagerfeld.
Gabrielle's fondness for the stations was instead born from the love story between herself and lover Boy Chapel as they had often used the one in Paris as a meeting point. This collection represented a compilation of all those moments, from the click of passengers heels to the rush of the running late comers, to the tears of a family upon the departure of a loved one. It was aimed at embodying all of these essences represented throughout time in this one type of space.
Throughout the collection, the house's signature tweed was of course presented in several different styles: from jackets to pantsuits, cardigans, jumpsuits and dresses. A selection of pastel prints blended into chiffon dresses with accumulated sequins. The house also created a custom lace in ode of the theme, one that subtly mimicked the mechanics of train station clocks. The colour palette was also very vigorous with tones of bright red, pink, brown and purple and hues of blue, grey and other pastels. Accessories were not scant, the collection introduced a new Chanel harness, as well as metal travel flasks, monochromatic waist bags, chain straps, quilted purses etc.
The Chanel Cruise 2020 collection embodied a woman whose best accessory is her passport and who spends her days exploring the world, not by plane, but rather by train where she can marvel at the passing landscape.