The surreal creations by graduate Fredrik Tjaerandsen
London. Graduation show of the Central Saint Martins College of Art and Fashion. After 42 presentations, it's the turn of the collection created by Fredrik Tjaerandsen. On the catwalk appear colourful and surreal creations, "bubble-dresses", real rubber balls full of air that, once deflated, as if they were magic, take the form of dresses or skirts on the models' bodies. Standing ovation. The audience in the room is enraptured, as are the thousands of users who have invaded the Internet by posting images and videos of these strange floating rainbow structures that in a moment turn into draped garments. The happiest and most astonished is the young Norwegian designer, winner of the L'Oreal Pro Talent Award, who did not expect such a positive, unbelievable result and immediate popularity that in one night led him to increase from 1,000 to 70,000 followers on his Instagram account.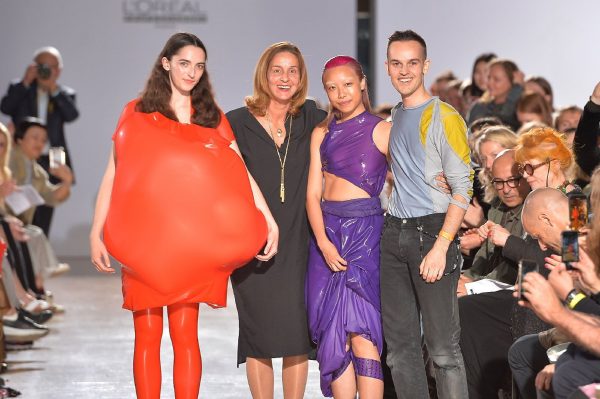 Fredrik explained that the starting point of his project was "unclear childhood memories":
"I really wanted to have this idea of capturing that mist… Sometimes there are these images that I can't really put into a place or a time. It's just that general feeling of fogginess, mist. The way I work, it's very ambiguous, full of things that I can't really explain. But I'm trying to make work that gives you that feeling."
And then he goes on:
"My collection is inspired by an almost indefinable moment when a human's self-awareness becomes active and sentient, I have strived to develop a process of experimental practice and development through which I could react and create my own expression of this moment and experience of being in that moment."
The Scandinavian creative has managed to achieve the desired effect by creating toroid-shaped structures (i.e., like a doughnut) made with rubber from a Sri Lankan company, which inside have a special air pressure system that allows the wearer to regulate the flow. The bubble deflates when an internal bolt is opened, as Tjaerandsen explains well:
"I have constructed these pieces with an air pressure system that lets the wearer control the air-flow. Whenever the wearer wants to deflate [the outfit] they open a latch inside to release the inverted bubble part and then dives out of the deflating bubble."
This process is the most interesting part of the show, a "magical" effect that has enchanted many. Fredrik Tjaerandsen's creations may not be very functional, but they certainly have the power to awaken an almost childish wonder.