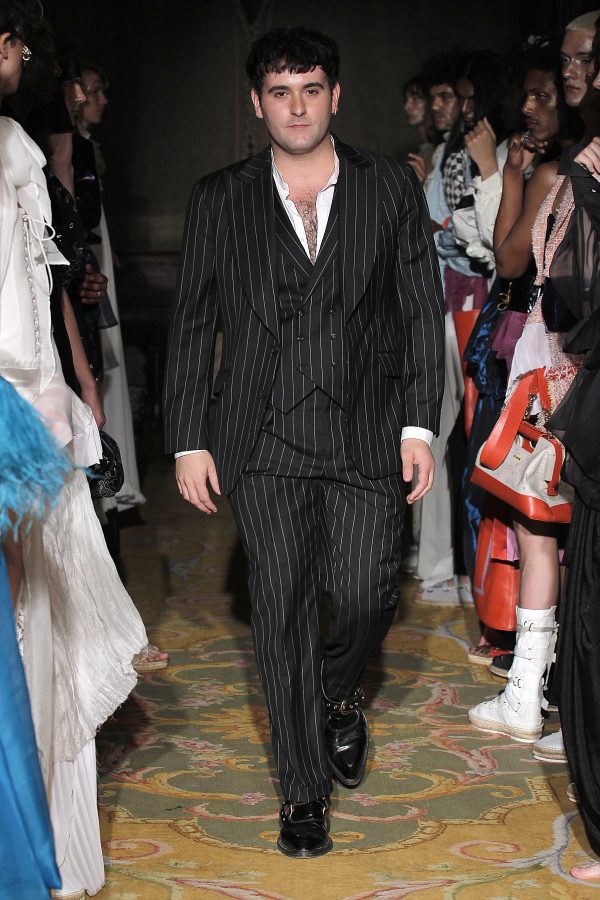 Palomo Spain presented its ninth collection, "POMPEII", at the Spanish Embassy in Paris during the first day of SS20 Paris Fashion Week Men's.
The designer has started SS20 Paris Fashion Week Men's with a collection with which he wanted to pay a particular tribute to Pompeii, the Roman city destroyed by the eruption of Vesuvius, and at the same time establish a temporary conversation between past, present and future.
Buried under the gray of the ashes and the volcanic rock of Mount Vesuvius, lies a distant civilization of Palomo boys who have been subjected to a deep lethargy over many centuries. They have chosen the spring summer of 2020 to emerge from  the depths, to reclaim that lost essence and become the man of the future: A man imbued with the beauty of frescoes and half-destroyed mosaics of a city frozen in time, and who has been driven by the burning lava in a lysergic journey to our days.
In the collection there is an important mix of messages and textures that bring the usual fantasy of the Palomo Spain universe to a more realistic world. It highlights the use of linen, silk, feathers and lace – very organic fabrics – mixed with psychedelic moirés, burlap and new elements to the house such as PVC or nylon. In a constant dialogue between the past and the future and the way in which they interact,  these elements add a strong and faithful message to the particular imagination of the Spanish designer.
Rectangular silhouettes are redrawn with tight waists and heavy collars in this exercise of punk craftsmanship, into which masculine corsetry is incorporated for the first time. With a vibrant palette of colors that is inspired by the four Pompeian styles, tones of white, beige and black are energized with injections of purple, coral and a dark aquamarine. On the other hand, checkerboard and fire prints,  add the final brushstrokes to this imaginative amalgam, making it work in perfect harmony.
The accessories of the collection enhance the looks with printed maxibags, headdresses, balaclava and charms, in addition to the jewels of anGostura, created especially for the occasion.
Palomo Spain's proposal is completed with Martin Plascencia's hair styling with the support of TAVI Hair and the beauty led by Fidel Fernández (Airport Agency) with the support of M · A · C Cosmetics.